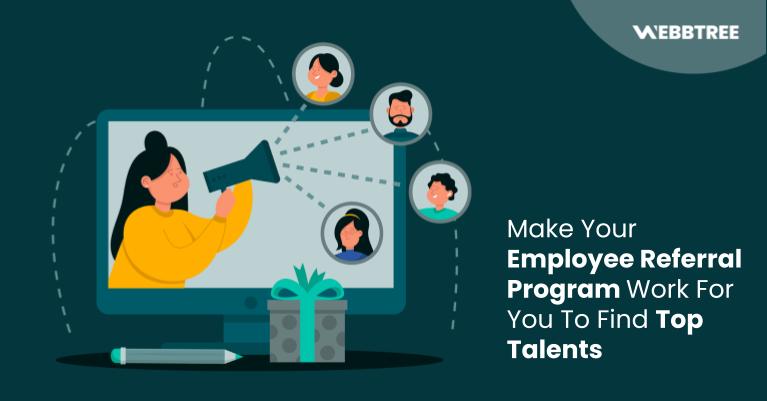 An employee referral program is like a snowball rolling down a hill – it starts small but as more people get involved, it continues to grow bigger and bigger. This method of sourcing candidates is often overlooked but it yields the best results. In a competitive job market, employee referrals connect you with candidates who are competent and qualified by your existing workforce.
Subsequently, you can also onboard referred candidates much faster without baring a hole in your pockets. Studies show that referred candidates are 4 times more likely to be hired than those who applied through a website. Additionally, 88% of employers believe that employee referrals provide the highest ROI when it comes to sourcing talents. With a potential recession just around the corner, establishing an employee referral program serves the employer's need to hire like-minded professionals and improve candidate retention rates.
Let's dive into how you can compose an effective employee referral program.
Creating an Employee Referral Program
1: Determining Goals
Before you set out to build a referral program, you need to assess the reasons for creating it. Ask yourself, what long-term and short-term goals will an employee referral meet? Drafting clear objectives for this program and predicting the potential outcome of these actions will enable recruiters to draw the support of senior leadership.
Some of the common objectives of establishing an employee referral program are to improve the quality of hires, increase employee retention, raise employee morale, and better culture fit with new hires. When recruiters fulfill these objectives they also help the organization meet its ultimate goal of reducing recruiting costs and time, penetrating through the passive candidates, and widening its talent pool.
2: Setting Up the Referral Process
For a successful employee referral program, you must ensure that the process is easy to understand for the employees. It should be structured in a simple, seamless, and user-friendly way. To track your referral program, you can use an excel spreadsheet for referrals, rewards, and contact with the applicant. Or you can take it one step ahead with an Applicant Tracking System like Webbtree Recroot. All you need to do is share a referral link with your employees through which they can share their referrals for a job opening y simply clicking on 'Refer a Friend'. This also helps recruiters get the best of both worlds – quality candidates and a network of relevant and interested candidates in just a few clicks.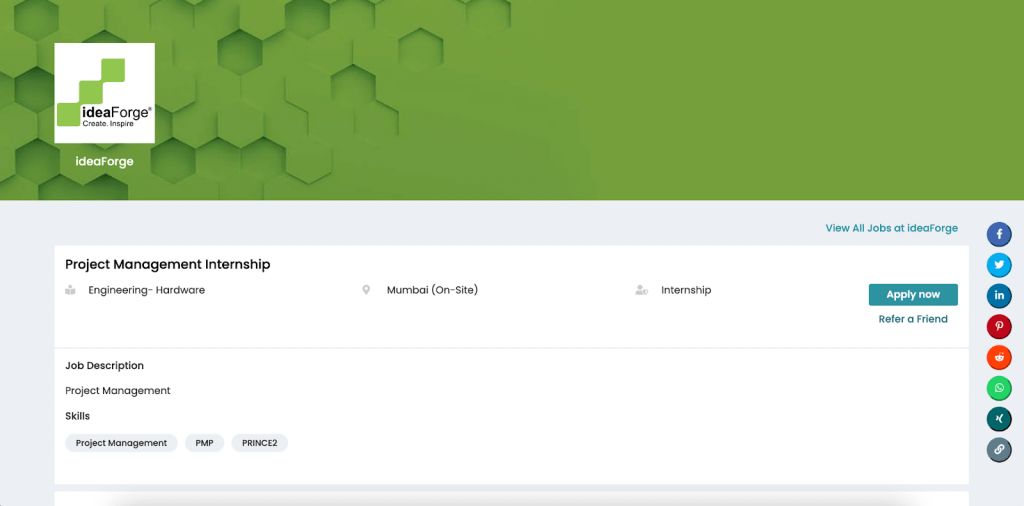 Image: Webbtree Recroot's Career Site to Refer a Friend
3: Offering Incentives
Employers can offer a range of incentives to employees who refer candidates that are subsequently hired. Usually, employers offer bonuses, which are either paid all at once or split into two payments. The first is when the new hire begins work and the second is after the hire completes the probation period. However, most employers choose the single payment option to provide immediate reinforcement for the employee.
Employers can also explore other options of offering incentives such as – time off with pay, gift cards, tickets to concerts or sporting events, points exchangeable for prizes, or the opportunity to enter the quarterly raffle for a bigger prize. Employees whose referrals are converted into hires for hard-to-fill job roles could be rewarded with a larger bonus than usual. Consistent employee contributions to the referral program could also be acknowledged with a special mention in the company newsletter or social media posts. These incentives encourage employee engagement and a steady flow of referrals.
Promoting Your Employee Referral Program
1: Communicating the Program Internally
Now that you know your goals for setting up an employee referral program with well-structured guidelines and attractive incentives, it's time to let everyone know about it. No, don't simply put it in a small corner of the employee handbook, instead, you can have a kick-off event with snacks and refreshments to share the news. You can give them a quick walk-through of the process and highlight how employee referral benefits them.
Employees being a part of the company culture may know what a culture fit candidate would look like, but they may need to be made aware of the other peculiar job requirements. To ensure that they know what to look for, you can include links to the job descriptions in the emails requesting referrals. You can also mention what qualities you are not looking for. If any of the employee referrals get hired, be sure to acknowledge their contribution to the organization.
2: Leveraging Social Media
According to studies, 69% of companies have incorporated their employee referral programs with social media. If you have not yet used social media to generate employee referrals then now is the time to start. You can begin by updating your employer brand on social media and designing a simple employee referral process. This makes it easier for employees to publicize the job openings.
The general rule of thumb is to give the employees as fewer clicks as possible to share the job posting with their contacts. Webbtree Recroot's social sharing feature equips you to share job postings on various social media platforms in just one click. With social media job postings employees can expand the range of people they refer to such as past colleagues, professional associates, and former school and college mates.
3: Reaching Out to Your Network
To broaden the scope of the employee referral program, some employers are now allowing a wider range of people to participate in the program. The participants include alumni, customers, contractors, partners, vendors, and more. Recruiters could consider this as a means to promote their referral program. Although you must be sure to collaborate with the finance team to discuss the budget and draft a straightforward method to reward employees as well as non-employees for their contributions to talent acquisition.
Measuring the Success of Your Employee Referral Program
1: Tracking Referrals
You have implemented an employee referral program that suits your organization but is that all? At regular intervals, recruiters and management should evaluate the referral program. They can also discuss and agree upon the metrics to be considered in the early stages of creating an employee referral program. This helps the recruiters to alter the referral program to stay in line with the expected outcome.
Recruiters can consider tracking the number of referrals made, how many of them were hired, the number of positions filled, and what was its time-to-hire. You can also keep a check on how many candidates you retained and what was the impact of the employee referral program on employee turnover.
2: Analyzing Results
At this stage of the referral process, recruiters have to analyze the results of the program and interpret its effectiveness in achieving the desired goals. You can measure metrics such as the number of employees hired through employee referrals versus other candidate-sourcing methods. You can also analyze the number of qualified candidates, participation rate, and retention rate of referred candidates compared to new hires from other sources. Recruiters can also conduct an employee survey on satisfaction with the program to identify how well or disappointing the referral program is for the referrers.
Conclusion 
This approach of leveraging the company's most valuable asset – its employees – is proving to be a success to find culture-fit hires. This is why recruiters are investing in building employee referral programs. The program helps recruiters seep into the pool of qualified passive candidates and acquire top talents, without spending millions. It also boosts employees' motivation to participate and contribute to the company's success. But implementing this program with manual efforts of creating excel sheets, writing multiple emails, and tracking all this data can be a difficult task to manage. Which is why it is often an underutilized channel for candidate sourcing
With Webbtree Recroot you can create a clear system for submitting, promoting, and monitoring referrals throughout the pipeline. It takes away the dependency on human resources and automates clerical tasks such as maintaining referral details, creating talent pipelines, tracking referral data, and analyzing the results. Webbtree Recroot is the perfect assistant to make your recruitment process easier and more efficient to ensure long-term success and generate recruitment ROI. 
So why wait?
Sign up to Webbtree Recroot and put your employee referral program on autopilot!