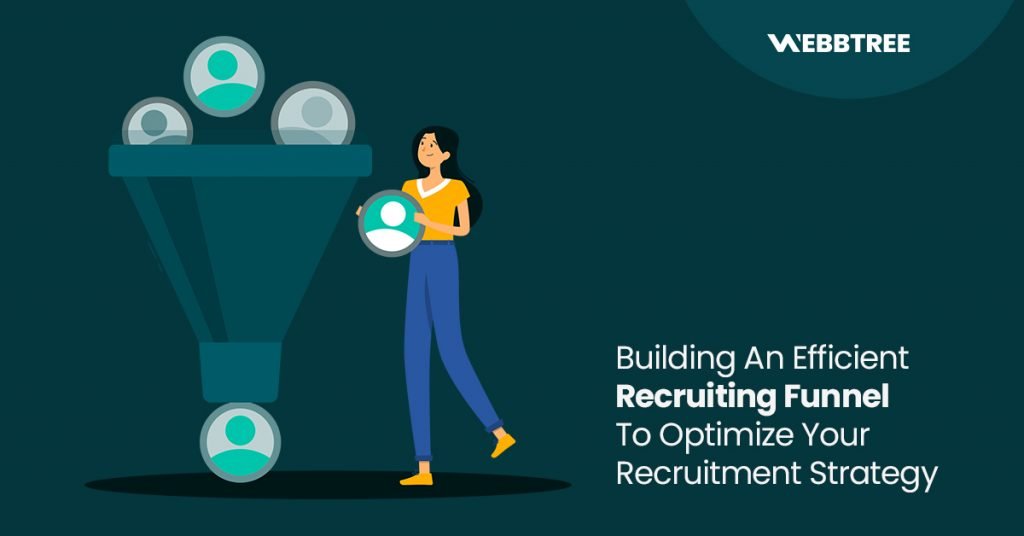 For the success of any recruitment campaign, the right pieces need to be in place to capture the right talent. And, a precise recruiting funnel is key to ensuring that the recruitment campaign has the right components in place. In this approach, at each level of the recruitment process recruiters take steps to narrow down the candidate pool to find the right fit. It helps recruiters think strategically and ultimately narrow down the funnel to the single best candidate for the job.
In the current economic climate, most employers have shifted to a data and ROI-driven recruiting process to make effective use of the limited budget. With a proper recruiting funnel in place, you can examine every step of the hiring process and optimize it as and when required for better results. In the absence of well-defined stages, the hiring process is filled with unnecessary steps leading to a longer recruitment process with lower ROI. When the focus is on narrowing down and eliminating candidates until you have the best-suited candidate you can create a better candidate experience.
In this blog, you will learn how to create and optimize a recruiting funnel that works for you.
The Stages Of A Recruiting Funnel
A recruitment funnel is broken down into 7 stages. With each passing stage, the goal is to have a more concentrated group of candidates that suits your job role. You can also measure the success of each stage using recruitment metrics to take advanced data-driven decisions. Now, let's dissect the stages of the recruitment funnel.
Awareness
It all begins with creating awareness about your employer brand to potential candidates. The secret sauce of this stage of the funnel is a recruitment marketing strategy that works for you. You can start by optimizing your employer brand. Make a list of things that set you apart from your competitors and show it off on your career pages, job applications, job postings, and more. Your messaging and the brand story should be attractive and relatable to your target personas.
Do not miss out on leveraging the power of social media. Proactively engage with passive candidates and get involved in the conversations that resonate with your ideal candidates. And use your online presence to reflect the essence of your business and its values.
Attraction
This is the first step towards filtering the vast pool of candidates with candidate sourcing to narrow down the recruitment funnel. But how do you make sure to hold their attention? Start with a unique and engaging job description that is straightforward. Bear in mind to not make the job description too steep so that you receive relevant candidate applications.
For better candidate sourcing, it is important to figure out which job boards and social media platforms are the best for your job postings. This broadens your reach to a high quantity of both active and passive job seekers. To make the recruitment process simpler, you can use Webbtree Recroot's integrated job board feature which can help you post job openings on multiple job boards with a single click.
Interest
Now that you have identified your candidates, it is time to pique their interest in your all-important job opening. At this stage, the candidates may reach out to the employer for the first time with some inquiries about the job roles. Recruiters must be available and prepared to answer their questions well. An effective way to do this is to include an FAQ section on your career page to address general questions. You may also consider investing in a chatbot to answer candidate queries swiftly for a smoother candidate experience.
Employer reviews can make or break a company's brand reputation. To be a favorite pick amongst the candidates, recruiters must be aware of where employees can review their employer. For example Glassdoor, Comparably, Careerbliss, and more. Although only one candidate is often selected for the job opening, the other contenders who were shortlisted should be documented in a talent pipeline. When the opportunity presents itself, recruiters can reach candidates from the talent pipeline.
Application
The success of all your efforts in raising awareness, drawing attention, and, intriguing candidates depends on how many potential candidates hit the 'apply now' button. But the job doesn't end there! Often interested candidates drop out of the application process because of how complicated and long-drawn the process is. This is why the recruiting team needs to make sure that their job application process is concise and quick. For many applicants, a mobile phone is a preferred choice of device to apply for a job. With Webbtree's mobile-friendly career site, candidates can easily apply from their mobile phones and ensure that none of the applicants are forced to drop out of the process.
One of the things that can impact the candidates' experience at this stage is a confirmation email after the application has been sent. Be sure to let each candidate know the status of their application with a response. Thank them for applying and inform them of the next steps and estimated timeline. Also, provide them with a way to contact you if they have any questions.
Screening
At this stage of the recruiting funnel, the pool of applicants is narrowed to a small group of possible hires. To find the best candidates for each role, it is important to analyze the recruitment KPIs. The candidate assessment could include technical aptitude tests, personality tests, culture fit assessments, and more. Depending on the job you are hiring for, you may choose to customize the test accordingly.
While this may seem obvious but recruiters must take special care to not let their bias dictate their decisions. Take the time to investigate the most common hiring biases to beware of them. One way to avoid this is to automate the screening process with an ATS like Webbtree Recroot. This also helps you track the stages of the application using the Kanban view.
Interview 
The hiring process at this stage progresses toward the narrow end of the recruitment funnel. To stay true to the quality of the recruiting funnel, ensure that you have a diverse group of interviewers on the panel, each of whom seeks and values different characteristics in a candidate. Make sure each candidate is asked the same questions to guarantee a fair interview process. Do not let the interviewers hinder away from the structure of the interview.
Even though technical competencies are essential, it can not be ignored that 80% of talent management experts believe that soft skills are vital for the company's success. Employers can train candidates to bridge the gap in the required hard skills. However, soft skills such as collaboration, effective communication, punctuality, and interpersonal skills are difficult to train. Consequently, employers should not disregard the importance of soft skills. Here's a Glassdoor guide to conducting interviews for an in-depth understanding of the interview process.
Hiring 
You are now at the final and most important stage of the recruiting funnel. It is time to extend a job offer to your ideal candidate. The candidate could be high in demand with other competitive offers to choose from. To make sure you stand out from the crowd, find what matters to them other than just the money and make sure it is a part of your final offer. Benefits like flexible working hours, insurance, skill development, and more can be included in the offer to close the deal.
Once accepted recruiters can get started with an onboarding process. This is to keep the new hires interested and enthusiastic about their job until the day they start working.
Looking back on the recruiting funnel, it becomes clear that stage 4 – Applying – is when the hiring process becomes more defined. At this stage, the candidates' information has been gathered and is taken through the rest of the stages with the help of a recruitment automation tool. It is the initial stages of recruitment that are tougher to penetrate through the funnel. It is difficult to determine whether or not it is effective. This is why recruiters need to be at the top of their game to measure the success of each stage and identify drawbacks and replace them with efficient solutions.
Conclusion
Building an efficient and airtight recruitment funnel is no simple task. However, you can start implementing some of our strategies to optimize your recruitment funnel. As a result, you will have an abundance of interested and competent applicants to choose from. Your interviews will be more effective, the time required to make a hire will reduce, and the quality of the hire will improve.
With the pressures of recession just around the corner, using an all-in-one applicant tracking system like Webbtree Recroot can help automate your recruitment process. It equips recruiters to build an end-to-end structured recruiting funnel. It also enables you to create an effective, scalable, and systematic process for attracting top talent.
Sign up for free and build a strong workforce and a competitive recruitment pipeline that can help your company grow and develop on the road to success.