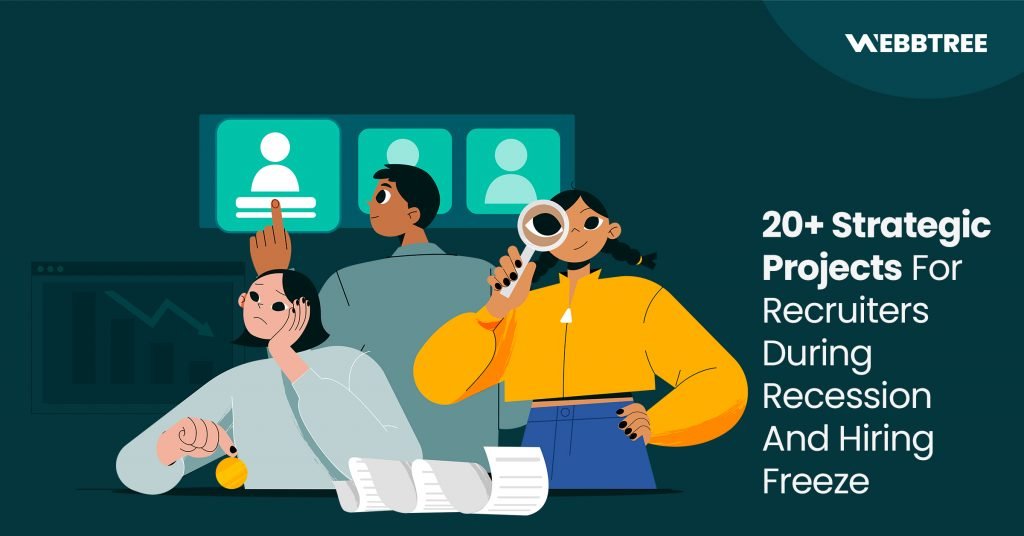 The economic downturn in recent times has impacted companies of all sizes across the globe. Businesses are struggling to stay afloat amidst the recession and many are falling back on methods like mass layoffs and hiring cuts or freezes to reduce the overall cost. Even the Big Tech companies like Twitter, Meta, and Amazon are slashing their workforce by thousands to recover their falling revenue and restructure their budgets. Mass layoffs also create a sense of panic across the job market with lesser jobs to fill and an increasing number of job seekers. During a recession, Recruiters have a crucial role in setting the tone of the job market with smart recruitment strategies.
Not a lot of strategies work in the volatile job market but the ones that do are often steps that were planned and taken well in advance. While the job openings and actual recruitment activities might be low, there are still many critical activities that recruiters can do during a hiring freeze, that can help them be prepared for the bull market ahead. Let's find out how recruiters can amp up their game and power through the recession.
Recruiters' Guide To Thriving During Recession
As a recruiter, navigating a recession and hiring freeze can be a challenging task. With fewer job opportunities available and an increased pool of job seekers, it's important to stay strategic and proactive in your recruitment efforts. In this blog, we will discuss over 20+ strategic projects that recruiters can implement during a recession and hiring freeze to continue sourcing and hiring top talents. From updating job descriptions to leveraging data and analytics, these projects can help you stay competitive and successful in a difficult job market.
Here are some of the best practices for recruiters to thrive during the recession.
Smart Candidate Sourcing Strategies
Mass layoffs in several companies increase the number of job seekers. Also, the average budgets and pay grades for some positions are almost cut down to half. This makes the recruiter's job all the more difficult to shortlist the best candidates. The lack of job security also diminishes the chances of passive candidates leaving the current company to explore other opportunities elsewhere.
Given the amount of pressure on the recruiters, a quick and easy hire seems tempting but it might end up costing the organization more in the long run. This is why in a turbulent economic period recruiters need to get smarter with their sourcing strategies. Here are a few inbound and outbound sourcing strategies to find candidates that lead to a better return on investment for your organization.
Inbound Sourcing

Enhance Your Online Job Posting: It is an effective way to draw targeted and qualified candidates to your organization. Recruiters can also take help from their marketing team to implement some SEO strategies to optimize your career page ranking and subsequently reach the niche audience you are looking for. Here's a guide by Glassdoor to optimising your online job posting.
Leverage Employee Referrals: Recruiters need to create and promote a strong internal referral program by motivating employees to participate in talent acquisition processes. Referring can be rewarded with bonuses and other incentives for each successful hire. Employee referrals also help in building teams that get along with each other. This in turn increases the morale and productivity of the team.
Build A Campus Ambassador Program: The brand ambassadors appointed by the employer can help employers build connections with students by spreading the word about the offers and benefits of the organization. The program can be an innovative way for brands to establish themselves in universities and build a robust talent pool of promising candidates.
Outbound Sourcing

Adopt Social Media Sourcing: With its massive reach to passive candidates, recruiters must incorporate social media into their talent-sourcing strategy. Social media also reduces the cost spent on sourcing as compared to traditional methods. To get you started with social media sourcing, we have a quick 'how to guide' on LinkedIn sourcing for you.
Try Boolean Search: Sourcing candidates in general is a time-consuming process and it is no different with online sourcing which consists of a huge talent pool. But using a boolean search can cut the time to half and you can define, limit, or broaden your search using boolean operators like – AND, OR, NOT etc. With Webbtree's TalentSource you can run complex boolean search queries with a simple click of a button and source niche candidates from across the web.
Diversify Your Outbound Sourcing: To keep finding experienced and quality candidates, recruiters must proactively seek out candidates in spaces where they mostly hang out. For example, joining slack communities, participating in conversations on Reddit and Quora, and more. Are you on the lookout for top tech talents? Here's our comprehensive guide carefully curated to source the best technical talents for your technical recruiting needs.
Improve Candidate Experience
In a nutshell, candidate experience is the outcome of all the engagement and interactions right from candidate outreach to the hiring process to offer acceptance. Candidates with positive experiences tend to extend their relationship with your brand's products and networks. They are also more likely to recommend you to other candidates and apply again for the next recruitment campaign.
Here are a few things that you can do today to benefit from providing candidates with a promising experience.
Carry Out A Structured Onboarding Process: Onboarding begins on the employee's first day at work. An onboarding process intends to familiarize the employee with the organizational structure, walkthrough different departments and their purpose, and acquaint them with the corporate culture and policies. Some of the best practices of a successful onboarding process involve addressing the basic requirements of any individual such as the way to the restroom and cafeteria, whom to reach out to in case of queries, how to get in touch with their peers during the day and more. This process helps the employees gain clarity on their roles and responsibilities and enables them to digest the information over time. Enhance your onboarding process by incorporating these practices to improve job satisfaction and retention rates.
Conduct An Efficient Pre-boarding: Pre-boarding process begins on the day the candidates accept the offer till they join the company on day one. This is a good time to learn more about the employees beyond the scope of their work. The idea is to keep these interactions light, simple, and fun, and make the employees feel welcome. This process also ensures that the candidate does not lose interest before they join the company. Candidates can be invited to the office to meet prospective team members during break time so that they can bond with each other outside the work setting. In the case of remote working, a quick video conferencing will do the trick too. 
Create/Update Your Career Page: The career page on a company website can attract candidates that are self-motivated and genuinely interested in your company. Updating a career page with several job listings could indicate the company's aspiration to expand its operations and enhance its brand value. Use this comprehensive guide by Indeed to create a career page that will help convert website visitors into successful hires. If you want a professional career page without bothering your busy internal teams, here is a solution: With Webbtree's ATS Recroot you can create a career site and embed it into your company's website to source inbound candidates. You can access the embedded career site on your mobile phone. 
Train Hiring Teams To Conduct An Effective Interview: The interview with hiring teams is an important step in the recruitment process and must be conducted in a streamlined manner with zero bias. Senior hiring teams with time and experience develop the knack for building a rapport with candidates before diving into the technical aspects of the interview. A lot of hiring managers, though proficient at their job, have not had interview training prior. This might cause wrong hiring decisions that training can help mitigate. You can now conduct effective interviews using our novel interviewing techniques mentioned here.
Upskill Your Internal Recruitment Teams
Preparing a company for recruitment amidst an economic crisis calls for the upskilling of recruiters. This will help redefine the skills that recruiters must possess and seek business-driven outcomes for recruitment campaigns.
Here are a few immediate steps recruiters can take to upskill themselves to survive in this uncertain economic environment without significant costs:
Cross-Train Your Recruiting Team: With shrinking staff and overlapping tasks, it is not affordable for employers to hire specialist recruiters for each domain, for example; technical recruiters. Cross-training your team helps them develop the skills required to handle a broader spectrum of recruitment challenges.
Create An Internal Role Rotation Program: Implementing this program allows recruiters to explore alternative responsibilities. It builds an internal pool of staff who can fill in temporary positions until a permanent replacement is found. This prevents stagnation of work and helps recruiters develop newer skills. During the onset of a recession, it reduces the cost of recruiting impulsively.
Improve Retention Of Current Employees
Why is it important to retain employees you ask? Because If the retention rate falls, the business will have to shed more money to hire new employees and train them for the job. Studies have shown that the cost of replacing employees with new hires is almost two times an employee's yearly salary. To avoid such economic blows, it is of vital importance for employers to increase their retention rate. Following are some quick fixes for recruiters in the right direction.
Help Employees Grow Their Careers Internally: Employers can actively work towards developing their employees with internal training programs and upskilling opportunities. Subsequently, it also generates a feeling of community and belonging which makes the employee want to stay at the company. The scope to grow professionally and as an individual, prevents them from being poached by other organizations.
Develop A Career Pathway Program For Promotion Options: The program displays how an employee can grow. One is vertical growth i.e., promotions and two is lateral growth i.e., changing disciplines. Employers can create a career path that best suits them, and when they use the pathing guide to evaluate the employee's performance it tends to have a greater impact than otherwise.
Analyze How To Handle Internal Pay Equity: Implementing internal pay equity establishes fairness of payment in the organization. It also gives employees a great morale boost when they are treated with equal respect and increases their loyalty towards the company. This in turn improves the employers' retention rate and also becomes a favourable choice for top talents.
Design Internal Apprenticeship And Job Shadowing Programs: These programs create a space for hands-on, on-the-job training for new employees and allow them to gain experience in the field under the guidance of a mentor. And although these programs can be used for any field, it significantly impacts work that requires more practical abilities. Seeing the job being played out in front of them, helps them understand the nuances of the work.
Recruitment Marketing, Communications, and CRM
Recruitment marketing is all about building relationships with prospective candidates by attracting, connecting, and engaging with them and converting the best outcomes for your organization. Recruiters rely on communicating the right things to the candidates to build trust for the long haul. With CRM and automated solutions, communicating with and tracking candidates has become a much easier process now. Let us go through some top tips for your recruitment marketing, communication, and CRM strategies.
Building An Employer Brand Collateral: Brand collateral helps employers cut through the clutter and persuades the candidates to choose them over other organizations. Strategizing how your brand appears and articulates its value propositions on various channels is a foolproof way to receive maximum return on investment for employers. Your brand collateral becomes all the more important when the recession is nearing and the recruitment budgets keep shrinking.
Create An Interview Prep Kit: A Leadership IQ report states that only 19% of new hires achieve clear success and over 45% of new hires tend to fail within the first year and a half. The failures occurred are often due to poor interpersonal skills. An interview kit with a structured set of questions helps interviewers follow a standard approach to interviewing candidates. This in turn helps employers compare the candidates' performances and make a well-informed hiring decision. Here's an Indeed masterclass on creating an interview kit.
Create CRM And Track Candidates: With Candidate Relationship Management (CRM) in today's competitive and erratic job market, employers can leverage a regular connection with past candidates to keep them actively engaged with your brand. A well-performed CRM leads to a pool of quality candidates within a limited time and budget. With Webbtree's TalentSource, you can perform CRM, track candidates on cloud-based platforms, and also create separate talent pipelines to communicate with them seamlessly.
Choose An ATS & Other HR Tech
Employers prioritise the revival of revenue in times of recession and in doing so, they often cut down the recruitment budget and the existing workforce. But instead, companies need to find better ways to increase efficiency and save costs elsewhere. One such way is to adopt an all-in-one applicant tracking system and automate the recruiting processes. This helps recruiters walk through processes that otherwise occupy days of manual time and effort. Venturing into digital solutions also significantly cuts down the employer's cost on traditional job postings and drives up efficiencies. ATS and other HR tech provide solutions to save time and money without minimizing your employee pool. Let's take a look at how recruiters can make use advance ATS and HR techs to build progressive recruitment processes.
Process Objective Screenings: Using an ATS like Webbtree Recroot, you can conduct an unbiased screening process. It can help you define the competencies of each role and find more defined results for it. You can also schedule interviews on the go and save time without missing out on the feedback. You can assign stakeholders at each stage to improve collaboration in your hiring process. And, if that's not all, Recroot also helps you run email campaigns and reach out to a huge database of candidates with a single click of a button.
Build And Update Your Talent Pipeline: In times of recession, the number of job seekers increases. It is up to the recruiters to build and/or update their talent database with the candidates' latest resumes. Instead of filling it out yourself and making it prone to duplication and manual error, an ATS like Webbtree Recroot is equipped with a feature for identifying duplicates and merging newer details of the candidates can help recruiters complete this task in no time.
Explore HR Technologies: The advent and growth of HR tech have completely changed the recruitment landscape for the good. With mobile-friendly designs, social media sourcing, online video conferencing, and learning management systems have flipped the recruiter scene upside down and have led to the development of streamlined recruitment processes. Incorporating these HR technologies help employers gain hot leads and run smaller recruiting cycles.
Internal Recruitment Process and Pipeline
Just like aligning your business priorities reduces your recruitment costs and time, hiring people that bring value to your business reduces staffing and recruitment stress during recession. And, since the current staff is already familiar with the work culture, the people, and the organizational structure, an internal recruitment strategy works like a charm. In this process, the mere skills required are not enough, but recruiters need to take a look at the bigger picture and seek out what else the internal staff can bring to the table. Here are some preliminary steps to conduct an effective internal recruitment process and pipeline.
Develop Standard Hiring Processes And Assessment Methods: Adopting a standardized recruiting process and using automated assessment techniques can help employers shorten their recruitment cycles and gain better outcomes. The reduced till to fill and time to hire limits the recruitment budget to a minimum with maximum outputs.  
Send Recruiters' To Work Within The Business: Recruiters can fill in temporary positions and also receive first-hand experience with the job, its deliverables, its skills, and the several nitty-gritty of the business process. On the bigger picture, this helps recruiters gain insights into the most pressing requirements of the job and predict whether recruiting internally or externally is a more feasible solution for the company.
Create/Update An SOP For The Recruiting Team: A Standard Operating Procedure (SOP) guide consists of directives regarding the organization's recruitment and selection process. This guide standardises the hiring process across departments, personnel, and locations which helps in maintaining a seamless candidate experience for the applicants. Thereafter, it also significantly decreases employee turnover and increases the recruitment retention rate. It enables recruiters to pick just the right candidates who are competent as well as complement the organizational values for an employer's internal recruiting needs. 
Construct A Succession Plan And Process: According to CareerBuilder, 27% of businesses have faced severe impacts due to poor succession planning. Employers need to focus on creating a succession plan that works especially when they face a major economic crisis. The loss of productivity and sales can adversely affect staff turnover and an impulsive promotion plan could lead to further losses. Therefore, employers must set a proper succession plan in motion to avoid unnecessary loss of revenue.
Forecast Hiring Needs Per Quarter: The simple trick here is for recruiters to be proactive. Recruiters must assess all the departments for their hiring needs and deliberate over it with the hiring manager to gain a more informed opinion on the requirements. Once you are aware of how many vacancies are expected for each department you can source candidates and save them in separate pipelines. This will further shorten the overall recruiting cycle.
Build A Compensation Philosophy: This philosophy guides employers' to design holistic compensation structures, manage benefits and assign compensation packages for new hires. Implementing a compensation philosophy attracts top candidates, helps employers maintain pay equity, and establish a positive employee experience. It helps you procedurally incentivize valuable employees and retain them in the long run.
Measure The Results Of These Initiatives: A recruitment process involves various stages like job posting, sourcing, screening, hiring and more. Measuring the effectiveness of all these efforts is crucial to determine where and which the process requires tweaking or rectification. It also helps understand what has worked best to double down on them in future campaigns.
Conclusion
During a recession, clients want to know that their money is being spent well given the increase in financial pressure. This makes the role of a recruiter during a recession not redundant but rather crucial as people still need jobs and companies need employees to run businesses. Recruiters need to focus on what is best for companies and strategize the action plans as discussed above to prepare for the downturns of a recession.
Instead of cutting down on the recruitment budget, employers must switch to smart solutions to streamline operations, drive efficiencies, and save overall costs. A versatile applicant tracking system like Webbtree Recroot is the only tool any recruiter could require to speed up the entire recruiting process. It helps you sort, screen and vet candidates, set up interviews, record feedback, conduct collaborative hiring, build a quick talent pool and group them into separate pipelines, conduct CRM and track applicants all in one single interface. It also makes sure that you do not have to pay for an ATS, a talent CRM, and a social recruitment platform separately, and it provides a well-rounded customer experience at a nominal rate.
Want to try this for free?
Sign up and access all of this and so much more only on Webbtree Recroot.