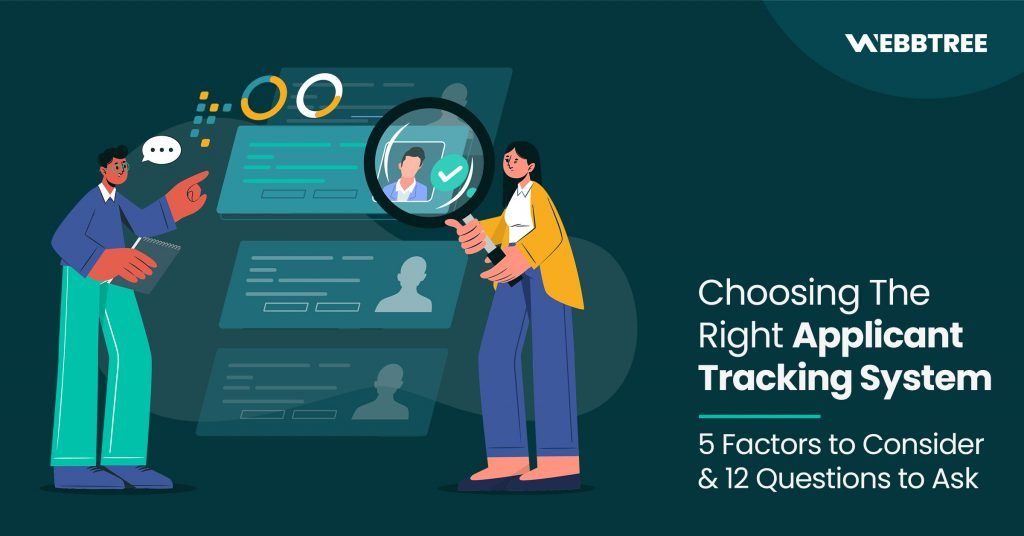 The candidates you recruit for your company shape its growth trajectory. And without a doubt, recruiting the right candidates is one of the most critical yet challenging processes in any business. As a recruiter, you try to streamline the entire hiring process and rope in the right person before it gets too late. But what happens when you can't find enough qualified candidates for a position you want to fill? Well, one thing is for sure — you need to update the process that you've been using for sourcing & recruitment tracking. And that's where an Applicant Tracking System (ATS) comes in.
This guide on selecting the best ATS will answer all your questions, like what an ATS is, its must-have features, and how to pick the right one. Without further ado, let's jump right into it.
Understanding Applicant Tracking System
An applicant tracking system (ATS) means a hiring software to find out & manage the most qualified candidates for a job, making the recruiting process simpler & seamless for the recruiters. 
Contrary to what most people believe, Applicant tracking software does a lot more than just surfing through resumes, it helps recruiters structure everything that happens after you shortlist a candidate till the time they are issued with an offer letter: structured hiring process, screening the candidate,  managing feedback & evaluation candidate communication. So deciding the right ATS can make a gigantic impact on the recruitment process & output. Here is how you can choose an ATS that will make your hiring processes something you look forward to.
Choosing the best Applicant Tracking System

for you
There are hundreds of ATS available today. How do you choose the best applicant tracking system? We help you decide this in two parts: 
First, we discuss the evaluation criteria for your organization. Once you have these nailed down, we then move to the top 11 features that an ATS today needs to have.
Let's start with the basic evaluation process criteria for your organization:
Cost
Let's say you're a small business owner who just needs to hire a few employees to manage it. You can't afford to go for recruitment software that charges thousands of dollars upfront. The point is that the ATS software you want to go for must fit your budget.
Most of the ATS players set their pricing based on the size of the company. Some offer a monthly subscription plan (the best option for small businesses). Moreover, you must look out for all the additional costs you'll have to pay for different features beyond the base price of the ATS. Choose a product that covers most features in the base price itself, so that you are not charged for every new feature.
Check also for platforms that claim a reasonable base price, but charge added costs for every new job listing beyond a number &  extra charges for license of  every new  team member added.
Example: Webbtree Recroot does this with truly flat pricing to ensure all costs are clear & give you access to all the promised features- as it should be.
Usability
Here's the thing, your HR managers will not be the only ones who will be using the ATS recruitment software. Other than the recruiters, individuals who will also use the recruitment software are interviewers, internal employees, and external applicants. Basically, everyone who wants to be connected to your company and wishes to work for you will be using the ATS. This is what makes Usability an important factor to consider.
Your HR team will be trained to use the candidate tracking system so complexity is not much of an issue for them. But for the rest of the users, you want to ensure that the learning curve of your recruiting software is not very high. Otherwise, candidates will simply avoid using it. 
Customer Support because Partner > Tool
At the end of the day, you are a customer who's going for a hiring software that is a SaaS product. And one thing that can't be compromised with any SaaS product is customer support. The Applicant tracking system software vendor must provide both technical and non-technical support SPOCs to ensure that you and your prospects don't face any issues while using it.
And because it's software, you might be using it in a different time zone from where the company is based, so 24/7 support should also be available.
Scalability
This factor matters the most for small businesses. Your needs today are different, but if you are growing fast, then your applicant management needs will also evolve rapidly. You may need the ATS today for your current requirement, but it's better to choose one keeping your future in mind.
You should go for an ATS software that is capable of helping as your needs grow. The tool should be a long-term solution. ATS tools like WebbTree offers modular pricing that fits well with businesses of every size. You can choose a plan based on your current business need, and it can then evolve in the future with your evolving needs.
Ownership of Data
ATS deals with confidential & critical data of your candidates like contact details, addresses, etc. Many ATS recruitment systems make it difficult to extract your data when you want to present it manually or even switch. This can put you in a catch-22 situation. Check the terms & conditions & position of the ATs provider on this before you drop down to individual features. For further safety of data, check if they are Globally Compliant With GDPR, CCPA & EEOC.
12 Questions to Ask During the Applicant Tracking System (ATS) Evaluation Process
The evaluation process for selecting the right talent acquisition platform can be challenging. But asking questions about the features that matter to you & can make your life easy is the definite way to choose the right Applicant Tracking System (ATS). Here are all the questions you need to ask before choosing an applicant tracking system :
Does it showcase my Employer Brand & branding?
When potential hires look at your job descriptions, application forms, and careers pages, they form opinions about your company & your employer brand. And you see, these opinions really matter because this is the point where these candidates decide if they want to go into the next step or not.
You want an applicant tracking system that allows you to customize every element to match the identity of your brand. The more consistent you are with it, the more likely you're to land the right candidate. And all of this contributes to a seamless & memorable candidate experience & a reinforced employer brand.
Can it help with Candidate Sourcing too?
How do you plan to hire great profiles for your company if you don't have the right fits in your ATS funnel? Your ATS software must have a candidate sourcing feature that allows you to hire for hard-to-fill roles by enriching your funnel. It must aggregate all the information available about the candidate in one single profile to make your search easy.
But some tools even go a step ahead and actually have features to source candidates through outbound recruitment. Webbtree Recroot has a boolean search-powered dashboard that allows you to source the candidates with your wanted criteria across many sites like Linkedin, Behance, Github, Stackoverflow & many more. What's more, you can add them to your pipeline with a single click.
Are there any added costs?
Most ATS platforms claim transparent & cost-effective pricing
How does it support Managing Interviews?
As far as the interviews are concerned, most of them should be automated by your ATS. It must have the feature to sync the scheduled interviews with your and the candidate's calendar. Your analyzing and reporting process can be made seamless if the ATS comes with interview kits and scorecards. This feature saves the candidate's time and ensures that the experience is top-notch.
Does it have Job Board Integration?
You are going for an ATS because you want to save time and increase the efficiency of your recruiting process. But this won't happen if you have to constantly navigate to different platforms to post, delete, or update the vacancies. Therefore, your ATS must have the job board integration feature.
Applicant tracking platforms like WebTree Recroot allow you to seamlessly integrate all the common job boards into the ATS, which helps you manage job posting with a few clicks. This tool is a massive time saver, especially in cases where you have to post the same job on multiple job boards.
Does the ATS support virtual recruiting?
The Covid-19 pandemic has made it pretty clear that things can change at any moment. Ideally, if the ATS software doesn't support virtual recruiting, you shouldn't be going for it. A cloud-based recruiting software ensures that you'll be able to acquire the right talent irrespective of the outside environment.
What are the branding options for the hiring process?
The applicant tracking systems should provide you with templates for incorporating your organization's branding at every step. With an on-brand career page, you can engage the interested candidates and show them everything that your company has to offer. Moreover, the branding options must be customizable to ensure that the pages and information available on them aligns well with your brand.
Does the solution handle employee referrals?
Employee referrals are a critical source of finding quality employees today. But the process for this has to be seamless. Your ATS has to be the missing link here by providing an easy-to-use &
There are various employment regulations you need to fulfill when your onboard new talent. Your ATS software should be advanced enough to eliminate the need for paperwork and make things digital. It should also be capable of verifying the documents and running background checks on them. Moreover, an ATS should also allow you to automate the onboarding process so that you don't need to do the data entry task manually.
What does the user interface (UI) look like for driver applicants?
As mentioned, the hiring team is trained to use the software, but the candidates won't do well with complex systems. The user interface of the ATS should be simple. Applicants should be able to find out the "apply now" button easily. And the whole application process shouldn't take a lot of clicks. A clean and modern UI ensures a good experience for the candidates, which makes them work for you even more.
How does it enable collaborative hiring internally?
With a remote team spread across various departments & locations, interview scheduling & feedback management is no less than a juggling act. A good ATS can be your wingman here by scheduling interview links & evaluation criteria directly from the app to hiring managers & other internal stakeholders & even sending a hassle-free feedback submission pop-up so that you get timely feedback without repeated follow-ups.
Does it manage both active and passive candidates?
Active candidates are the ones who are on the quest for an opportunity. Once they apply, they'll automatically become a part of your pipeline. But what about the great talents that are not actively searching for a job?
Sometimes, all these passive candidates need is a push from the recruiters' side, a look at the exciting opportunity, and they can also agree to become a part of your talent pool. A good ATS software will always take care of the passive candidates, too.
Can it help Communicate directly with candidates?
Creating a talent pipeline and nurturing promising candidates is an important part of recruitment today. But back and forth from multiple email threads and accounts to multiple candidates can make the process broken. The best ATS allows you to send & receive 1-many & personalized emails to build relationships with candidates.
Can it make my recruitment data-driven with the right analytics?
Hiring is a long-term project, and it's important to measure & improve your process over time. One way to do this is by tracking various metrics related to the status quo of your hiring on a single dashboard. This can help you keep track of what's working, what isn't, and how you should proceed. This can be presented as a single source of truth to your management about the status quo of recruitment.
Conclusion
The future of your company depends on the talent you hire. This is why when you choose the best applicant tracking system for your organization consider all the features you might need and the other decision-making factors too. You need software that solves almost every recruiting challenge you ever face & then some more.
If you are looking for a recruitment platform that includes features of an ATS that satisfies all of these criteria with a sourcing tool, 24*7 support & competitive pricing? Look no further- Check out Webbtree Recroot & how it can supercharge every step of recruiting process here.
Want to try Webbtree Recroot for Free? Sign up here.