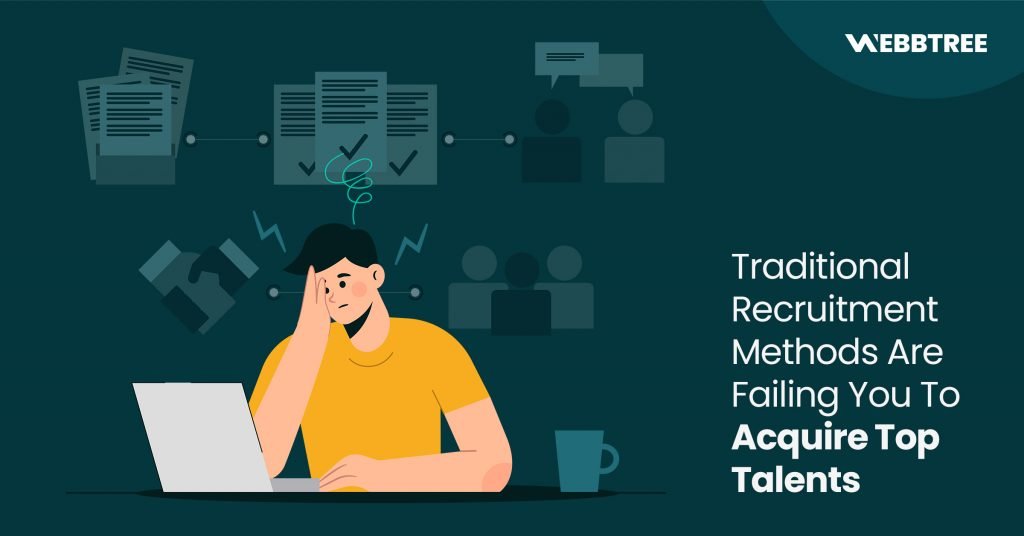 Imagine this, a mid-sized accounting firm is looking to hire an experienced account manager. The recruiting team with all hands on deck creates job ads and publishes them in the newspapers, and posts flyers on the local bulletin boards. But they only received a handful of applications, and barely anyone came close to being a good fit for the role. To attract more applicants, they participated in the local job fair but could only spot young freshers who did not qualify for an experienced job role. So as the last resort, they decided to promote the senior accountant in the firm with zero managerial experience.
Where do you think this recruiting team went wrong? Yes, you guessed it right! It is the method of recruitment that did not deliver the best results, especially in the current recruitment landscape. That is because using traditional recruitment methods in a job market made up of Millennials and Gen Z is like using two bowls of salad to draw Joey Tribbiani's attention. Recruiting today cannot be isolated from the benefits of technological advancements and ignoring them is only setting yourself up for failure. In fact, in a 2022 survey, 68% of recruiters responded that investing in new recruitment tech can improve your recruitment process drastically.
In this blog, we will dive into the alternatives to traditional recruitment methods, but before that let us look at the limitations of these methods.
Limitations of Traditional Recruitment Methods
1: Rigid Methods of Job Postings
Using print ads restricts recruiters to the space available on the flyers and limits the number of details they can share about the job opening. Furthermore, due to the inbound nature of this recruitment channel, once the job post is published, recruiters have to wait for the candidates to reach out to them. Recruiters cannot do anything anymore to drive in more applicants causing unproductive job advertising. On the contrary, outbound recruitment strategies help recruiters to reach out to qualified candidates proactively using new digital recruitment solutions.
2: Engages Only with Active Candidates
Recruiters often miss out on the right talent because passive candidates do not check the job listings or attend job fairs often. And these passive candidates account for more than 70% of suitable candidates who barely engage with new job openings. Only active candidates looking for a job are accessible under the traditional methods of recruiting. No algorithm is at your disposal to find the right candidates with a few clicks.
3: Narrow Scope of Job Ads
The job postings are constrained by geographical boundaries and often limited to the population of qualified individuals in the local area. This drastically reduces your potential pool of talent. Additionally, people from different ethnic backgrounds may be precluded from these opportunities due to the risk of unconscious bias associated with human opinion-based recruitment.
4: Not Suitable for Smaller Organizations
Imagine there are two job postings, one from a well-known company like TATA and the other from a local organization. Which job posting would receive more applicants? More often than not big companies like TATA have an upper hand because people are drawn to the company's brand and culture. Studies have shown that job-seekers are hesitant to apply to small companies even if they offer better compensation. That is why small businesses struggle to run a successful traditional recruitment campaign.
5: Costly and No Data-Driven Results
Traditional recruitment processes such as advertisements, fees for hiring agencies, and recruitment budgets for job fairs cost employers a lot without showcasing any long-term ROI and results. In opposition to this, modern recruiting tactics can cut these costs significantly.
6: Time-Consuming Recruitment Methods
Waiting weeks for physical applications to come in, shortlisting the applications, scheduling tests and interviews, and connecting with the shortlisted candidates are all time-intensive activities that prolong the recruiting process. With technology coming in, these tasks can be done in no time, eliminating human fatigue, oversight, and bias that may be present.
7: Missing Out on Top Talents
The long-drawn recruiting process costs employers to lose out on top talents. They also sometimes end up with an underqualified hire that does not fit the organizational culture. Quality hire reflects the value they add to the organization and how their contributions lead the organization to success in the long run. Failing to hire the right fit, affects the retention rate of the company and leads to greater employee turnover.
8: Not Equipped for Remote Recruitment
The geographical boundaries and limited posting options confine a traditional recruitment process to be relevant to a certain radius. Remote hiring challenges go beyond national and international boundaries and seek technological interventions to run an effective remote recruitment campaign which is not possible with traditional methods.
A job-seeker who is actively searching for work will decide on one of the initial offers they receive, instead of waiting for an extended period due to traditional recruitment methods. Companies that take advantage of modern hiring practices are likely to have an advantage in this scenario.
Alternatives To Traditional Recruitment Methods
Non-traditional methods or modern recruitment strategies mainly make use of technology and web-based recruitment solutions. These methods are easy to implement and customizable as per your hiring process. It also gives you control over your job postings and the applications you receive and is accessible on any internet-enabled device. And to top it all off these modern methods of recruiting have a wider reach and are cost-effective for organizations.
Here are 7 modern recruitment methods that make a recruiter's life simpler:
1: Tapping into Social Media
The widespread reach of social media platforms is an effective way to attract fresh talent, particularly the Millennials and Gen Zs. Social media recruitment offers a much larger scope than traditional methods. It provides vast opportunities to build relationships and gain insights into both the company's employer brand and the candidates' profiles. With an ATS like Webbtree Recroot, recruiters can also create a mobile-friendly career site that makes it easy for candidates to apply because of the mass use of smartphones across the globe. Platforms like LinkedIn, Twitter, and Facebook with their massive reach offer a comprehensive network of communities to engage with potential candidates and provide a personalized experience for everyone involved. And using Webbtree Recroot's job board integration feature, recruiters can post on multiple platforms at the same time, with a single click.
2: Automated Candidate Sourcing
It is a non-traditional recruitment method that uses technology to automate manual efforts. It uses sourcing platforms to identify, filter, and shortlist the best person for the job. Recruiters can also add a human touch with boolean search strings. Outbound recruitment with a boolean search enables recruiters to customize their requirements based on various parameters. It saves time and money and also allows recruiters to thoroughly search and build a robust talent pool for successful hiring practices. With a talent sourcing platform like Webbtree TalentSource, recruiters can run boolean searches without any complex queries and get results of suitable candidates in less than 15 seconds from various platforms. This helps identify and reach out to candidates that are best suited for the role rather than manually searching for relevant candidates. It also helps in improving recruiters' productivity as they can focus on creating personalized outreach messages to the sourced candidates.
3: Smarter Candidate Screening
Non-traditional screening methods are more effective, quicker, and automated granting recruiters more time to find top-notch candidates and evade bad hires. AI-enabled screening equips employers to assess candidate profiles based on the requirements of the job description and identify suitable candidates. This process helps in shortlisting qualified applicants and reduces the overall recruitment timeline.
4: Parallel Processing
With traditional methods, each phase of the recruitment process had to be completed before the next phase could start resulting in a time-consuming process. It also meant that any mistake in the previous phases was propagated throughout the process. Using modern recruiting methods, processing can be done in parallel, and errors can be identified and corrected immediately. This, for example, reduces the time spent in feeding the details of all the candidates into an Excel sheet. It also prevents recruiters from the risk of repeating the mistakes further while segregating the Excel sheet into different talent pipelines. Parallel processing helps recruiters boost daily productivity and manage multiple candidates seamlessly since non-traditional methods operate multiple data elements simultaneously.
5: Recruitment Candidate Relationship Management (CRM)
Modern recruitment methods use CRM systems to manage the entire recruitment process while strengthening and sustaining your connections with potential candidates. It is a priority for employers to ensure that the candidates have a positive and hassle-free experience to ensure your organization stands out from the rest. The CRM system can help those in talent acquisition to connect with candidates and build interpersonal relationships, create dynamic career pages, conduct collaborative hiring, and proactively source and cultivate talent.
6: Recruitment Analytics
This is a non-traditional recruitment strategy, that is used to evaluate all the data related to your recruitment process. The analysis includes candidate sourcing, selection, and hiring processes. It also analyzes the outcome of recent hires on your retention and turnover rates. Recruitment analytics aims to identify any bottlenecks and areas for improvement to streamline the entire process, offer a better candidate experience, and improve the quality of hires.
7: SEO-Optimized Career Sites
Recruiters can use SEO to craft job postings that can be found with ease. This increases the chances of potential candidates finding your brand and job listings. SEO tools help in identifying the keywords candidates might type in, while looking for an opening. Recruiters can include those words in the description for better discoverability. This can help recruiters amp up their recruitment game and attract interested applicants and give employers more options to choose from. Webbtree Recroot provides highly SEO-Optimized pages to make sure your job listing rank higher on search engines like Google.
Conclusion
In times of technological advancements, recruiters need to move away from the conventional approach of recruitment. They need to find ways to incorporate technology and automation into the recruitment process to reduce manual effort and error. With traditional recruitment, the hiring process tends to lack diversity, it is time and cost-intensive. All these issues can easily be outdone with modern methods of recruitment and selection.
While technology reduces the time and money spent on hiring candidates, it does not necessarily result in a quality hire. Recruiters still have to put in a lot of time and work in managing tedious manual jobs like candidate screening, maintaining trackers, and candidate communication. That's where an applicant tracking system like Webbtree Recroot comes in. With Recroot you can source better candidates quickly with a mobile-friendly career site and an integrated job board. You can set up an equitable process and implement a collaborative hiring process. To top it all off, you can conduct an unbiased screening process with easy feedback submissions, and make informed hiring decisions. 
Bid farewell to the outdated recruitment methods that are time-consuming, and cost-intensive and welcome the power of modern recruitment strategies.
Sign up to Webbtree Recroot for free – The only tool you need to keep all your recruitment woes at bay.