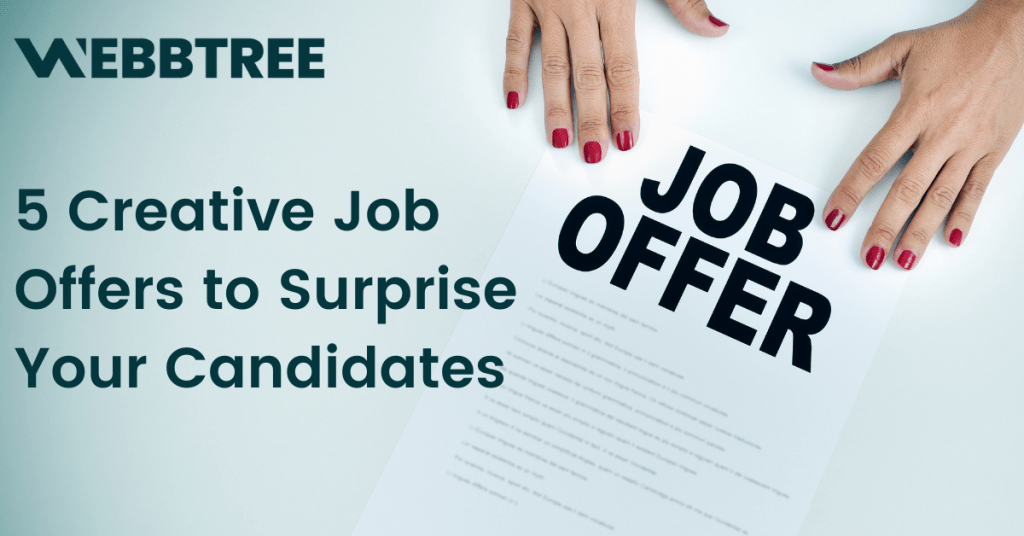 As a recruiter, you know that finding the perfect candidate is only half the battle. The other half is convincing them to come on board. When it comes to job offers, most people typically think of the traditional ones – salary, benefits, etc. But there are many other creative ways to surprise your candidates with an offer that they may not expect.
If you are looking for ways to surprise and engage your candidates, here are five creative job offers that might do the trick – from unique benefits to fun perks. These ideas will help you stand out from the competition and land top talent.
Use animated images or GIFs with job offers
Employers want them to be remembered as the company that offered the candidate a job they cannot refuse. You want to surprise and delight them with an engaging offer that stands out from the competition. Offering a job to a candidate is always an exciting moment, but it can be even more thrilling if you surprise them with an animated image or GIF.
Animated images or GIFs add a touch of personality and fun to your job offer and can help you stand out from the crowd. GIFs are a great way to send positive visual messages that will show off your company's culture and give an extra boost of motivation when accepting job offers.
The entire team usually enjoys creating these moving images that can be created in minutes with several online tools, but it is important to involve not only yourself – but other members as well. This can lead you to even more creative ideas than you expected.
Do not embed the animated image directly in the email to truly surprise your candidate. Instead, send an email that includes a link to your GIF or animated image and informs the candidate that you have a special message for them. They will see your GIF and know they have been chosen for the job if they click on the link. So if you are ready to start recruiting new employees, be sure to use animated images or GIFs in your job offers.
Invite and surprise the candidate
The element of surprise is one way to get candidates excited about their potential new role. If you are looking for a way to surprise your new hire and show them how excited you are for them coming on board and joining the team, consider inviting them to your office. You could call your potential candidate into one on one meetings to discuss minor details, then surprise them with the whole team and an informative banner telling how delightful it is that they were chosen for this job.
These events are designed to surprise the candidates who have already been selected for a position but have not been made aware of it yet. It is a great opportunity for companies to show off their space so that candidates can see their desks and meet the people they will be working with. This is an easy way to make someone feel welcome.
However, it does involve some effort on both sides – you will need to plan your team meeting and find time for the candidate to come into the office personally. For example, invite them on Friday afternoons when your team, as well as the prospective candidates, have time to meet some staff members and familiarize themselves with their future colleagues.
Make a playlist specifically for the job posting
This is one of the most creative and fun initiatives. Create a personalized playlist for each job posting that tells candidates they have been hired. Send them the link to the playlist, it is guaranteed to make their day brighter. Just be sure to avoid any tracks that might be offensive or inappropriate.
These playlists can be shared with potential hires as an offer of employment or as a thank you after an interview.
Send a photo of a personalized office
Another creative way to let the candidate know they have been selected for a job is by sending them photos of their personalized office in advance, set up just for them, and using their favorite colors or decorations. This will show them that they are valued and appreciated by their future company.
But before doing so, make sure you find out more about your potential employee by sending a questionnaire including personal questions during the recruitment process. After receiving the feedback response, you should then use those answers as inspiration when decorating their desk with themes. Consider adding plants strategically placed around desks to make workers happy at work (and therefore more productive).
By decorating the office, you are making it clear that everything is ready for the arrival of the candidate. Make sure that all photos in your email are professional or at least appropriate for viewing by people outside your network. Link out to those images rather than attaching them as attachments so that the recipient does not have to open up another program like image viewer or drive.
Send a home welcome package
If you can spare to spend more time and effort to surprise your candidate, you can send them a personalized welcome package at home. It is the most pleasant way for the candidate to know that he/she has been selected.
Companies can send a personalized welcome package to the home address of their candidates to surprise them and make the candidate feel like they are already part of the company. Sending a personalized package is not only an excellent way for companies to show that they care about their employees, but it also helps with retention rates.
A personalized welcome package of goodies and information about whom they will work with and what their day-to-day job might look like will make sure they have a great start from the very beginning. The sooner you can get them excited about where they are headed, the better the chances of getting them on board. Personalized packages include items such as pens, branded t-shirts, notebooks, bottles, and coffee mugs with the company logo.
The best candidates are looking for a place where they will be happy, challenged, and appreciated. To stand out from the competition and to appeal to a wider range of candidates, try one of these five creative job offers. With some creativity and effort, you can design an offer that will make your company seem like it has its priorities in order.
If you are struggling with your hiring process to source talent in today's competitive hiring market, use Webbtree to find candidates for the open job. Webbtree is an expert in recruiting and finding candidates for open positions. We specialize in candidate sourcing to help your company grow and succeed.
In addition, the Webbtree applicant tracking system (ATS) is software that helps companies recruit talent. It can be used for posting jobs, sorting resumes, and finding the best candidate to fill open jobs. Our ATS allows you to search by keyword or job title and rank candidates based on criteria such as experience, qualifications, skills, and education level.
Webbtree ATS is also used by companies as a tool to manage their recruitment process internally – from posting jobs, interviewing candidates to making offers. See all the features of Webbtree ATS right here.
Contact us today to find the perfect candidate who will be a great culture fit with your team, whether they are looking for their first job or have years of experience!