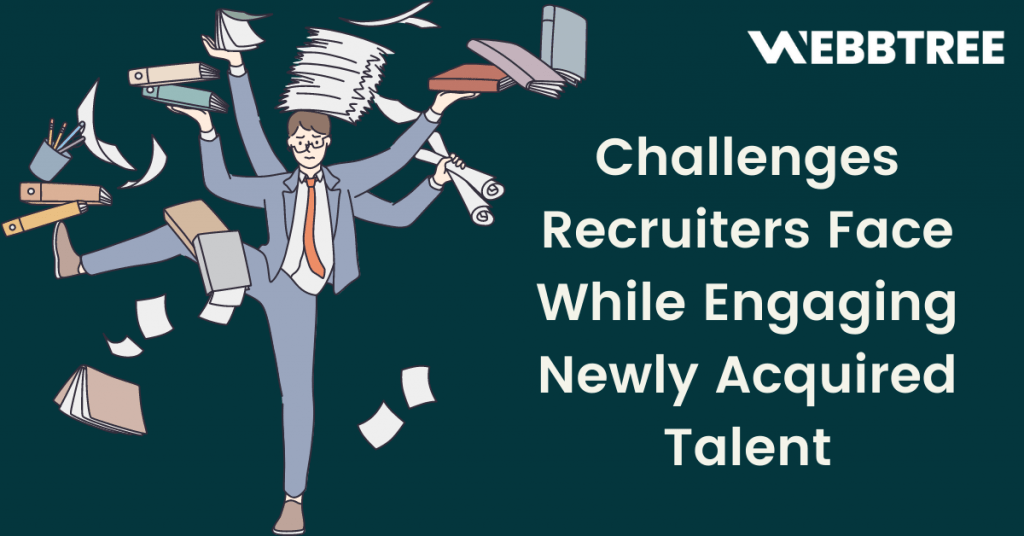 In order to succeed, businesses need to have the right people in the right positions. This often means acquiring new talent from time to time. Recruiters need to quickly get up to speed on the new hires' skills and background, assess their fit within the organization and make sure that they are integrated into the team as soon as possible.
For recruiters, engaging newly acquired talent can be a challenge. There are several things to keep in mind to make the transition as smooth as possible for both the recruiter and the new employee. By being aware of these challenges, you can work to overcome them and create a successful hiring process. Here are some of the challenges recruiters face when engaging newly-acquired talent:
Attracting the right candidates
Recruiters face challenges when it comes to attracting the right candidates for an open job. This may be due to some factors, including the competitive job market or a lack of qualified applicants. It becomes even more difficult when competing with other companies for the same talent.
To attract the best possible candidates, recruiters need to market their company and the job opening in a way that stands out from the competition. It is a lot of work to find the eligible candidates and then make them interested in the position.
Tip 1: Recruiters first need to be able to identify what candidates are looking for in a new position and then market the company and its open job in a way that appeals to them.
Be clear about the requirements in your job advertisements and give a brief description of the role. Use an application form with 'knock-out' questions to directly address your major concerns.
For example, do you need a web developer with two years of experience? Ask a yes/no question to the candidates whether they have previous experience in web development or not. It is a quick way to weed out people who are not right for the role.
Tip 2: With a multichannel recruitment strategy, you can tap into the most qualified and skilled talent. This includes internal and external employee referrals, job postings on your website, social networks, and job boards.
Engaging qualified candidates
It is often difficult for recruiters to engage qualified candidates for job openings after they have found them. Recruiters often contact good candidates, which makes it difficult for your email to stand out.
Furthermore, candidates with skills and expertise often receive multiple job offers and consider multiple job offers at the same time. You need to make extra effort to persuade passive candidates to choose your company over your competitors. Engaging the right candidates takes time and effort.
Tip: When contacting a passive candidate, do your research first about what makes passive candidates happy in their jobs and what motivates them. With this knowledge, personalize your sourcing emails to describe the opportunities that could help them grow instead of simply listing out some tasks and responsibilities.
Since it is about finding the best candidate instead of just filling any position as quickly as possible, there is nothing wrong with taking some time to find good candidates.
Recruiters are always looking to hire for vacant positions as quickly as possible because the cost of vacancies goes up every day. Vacant positions delay operations which can lead to higher costs and lost revenue.
The hiring process is long and arduous since it includes conducting interviews, determining if candidates are qualified for the job, and deciding who should be hired. Hiring decisions require input from multiple departments within an organization, including HR, finance, operations, marketing, and more. This can be time-consuming, which may slow down the hiring process. As a result, candidates will find another job instead of waiting for you.
Tip: Utilize an applicant tracking system, or ATS, to make your hiring process fast. The applicant tracking system is the backbone of any hiring process. Webbtree ATS manages everything from candidate information, job postings, resume processing, scheduling interviews, tracking the progress of each candidate, and sending out offers.
Webbtree ATS is designed to help recruiters filter out candidates and streamline their hiring processes. By using Webbtree ATS, you will be able to save time and energy while still ensuring that you are hiring the best person for the job.
Using data-driven recruitment
Recruitment data and metrics can help companies continually improve their hiring process with more informed decisions. However, collecting this information is not always easy because it requires a lot of time input from employees as well as external sources like potential candidates who may be interested in joining your company's team.
Hiring teams require more efficient ways to track data and trends. They cannot do this with spreadsheets because it requires manual work which can be prone to human error. This is why there has been a rise in using automated software such as applicant tracking systems (ATS).
Tip: Webbtree ATS allows you to store data and export helpful reports, which can make your recruitment process more efficient. You can use this data to track trends and make better decisions for your recruiting process. By choosing an ATS with these capabilities, you will be able to streamline your recruitment efforts and get a better return on investment.
Building a strong employer brand
A strong employer brand is key to attracting top talent. Building a strong employer brand is crucial for recruiters because it creates trust with potential employees, increases their chances of hiring high-quality people, and builds up the company's reputation in the marketplace.
Building a strong employer brand is an ongoing and complex process and in order to be successful, it must have a strategy that includes the right content and channels. The details that go into building an effective employer branding strategy are often overlooked by companies who do not have enough time or resources to dedicate to this task.
Tip: One of the most vital aspects of creating a memorable employer brand is developing a positive reputation in the industry through social media, events, and visibility.
Ensuring a good candidate experience
Treating candidates well is crucial when it comes to recruiting new employees. How you hire can also reflect your company culture, and it is also a factor when potential candidates are evaluating your job offers.
The candidate experience can have an impact on whether or not the potential candidates accept your offer of employment, so you must create positive memories during each step in the hiring process.
Candidates are more likely to accept a job offer if they have an enjoyable process from start to finish, which reflects the type of work environment you want for future employees as well.
Tip: Let your candidates know when they can expect a response from you. Do not leave them in the dark during the recruitment process.
Demonstrate your professionalism by coordinating well with candidates. If you are scheduling an in-person interview, give them all the necessary information (like who to ask for and what they need).
Explain that a scheduled meeting will take place at such time/day etc. Explain what they can expect from the interview and what steps they should take next.
Creating an efficient recruiting process
The recruiting process is a vital part of any company, and without it, companies cannot grow. However, having an inefficient hiring process can be frustrating for recruiters and the company alike.
Hiring teams need to communicate quickly, evaluate candidates and know what is going on every step of the way. Recruiters are in charge of coordinating all of this communication, but it can be a challenge when they don't have a good rapport or relationship with their hiring manager. Administrative tasks also take away valuable minutes during interviews and create more work for the hiring team.
Tip: ATS is one such tool that recruiters can use to create an efficient recruitment process. Webbtree ATS can help your team coordinate and see the status of the hiring process at a glance. This system will allow your team to leave feedback and view each other's comments. It will also make administrative tasks easier by including built-in email templates, calendar integrations, and other features.
Webbtree is a talent platform that is designed to help companies find and hire the right person for any role. By using this powerful tool, you can source candidates from around the world, screen them in one place, interview remotely with a webcam or phone call if needed, and finally, make an offer.
This saves time on sourcing by allowing you to search through hundreds of resumes at once instead of going through each one individually. It also helps save money because it eliminates traditional recruiting fees such as advertising costs, agency commissions, etc. which often adds up quickly when hiring multiple employees in different locations simultaneously.
Webbtree is the all-in-one solution to sourcing, screening, interviewing, and hiring top candidates online. We have everything you need to hire great people fast. Our platform includes Applicant Tracking System ATS for sourcing talent and finding candidates for jobs. Each of these products is robust alone, but when used together they create a truly magical experience for both employers and employees alike. The next time you are looking to hire someone new give us a try. 
Webbtree Applicant Tracking System is the perfect solution for any business looking to simplify its recruiting process. It can replace the outdated tracker on Excel sheets saving you time and money by helping streamline your entire recruitment process so that you do not miss out on any qualified candidates.
Our ATS offers many features, such as it allows you to track applicants, their status, and tasks associated with each step of the recruitment process. This includes communication with candidates, posting jobs online, reviewing resumes, and online scheduling of interviews with candidates. One of the most useful features of our ATS is the ability for companies to post jobs on multiple websites simultaneously without having to copy and paste information or type it out again. You can see all the features we offer here.
Our system has the capabilities to meet all of your recruiting needs! Check out what else we can do for you here.