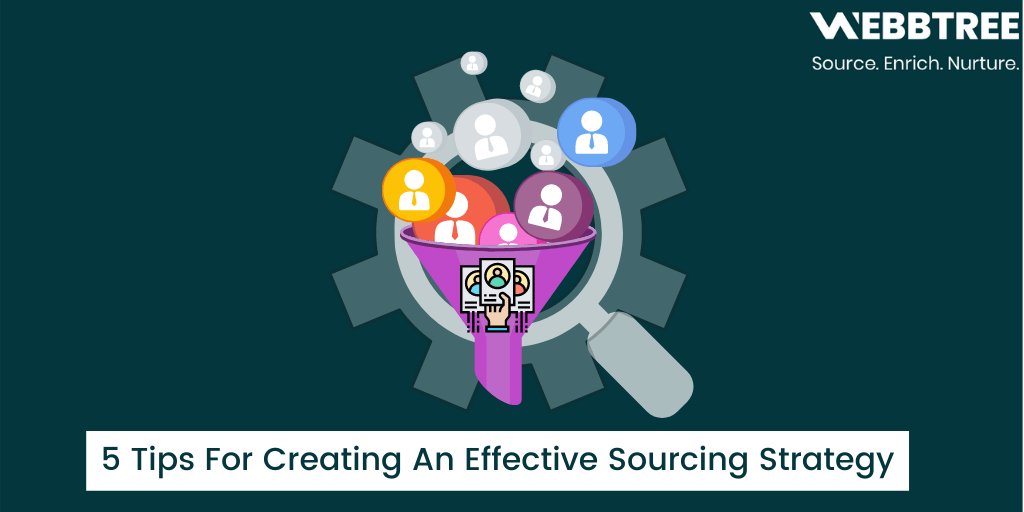 The secret ingredient to successful and effective recruitment practices is understanding the core audience that you are targeting – candidates. Problems that are frequently encountered in this domain include candidates' misinformation and misunderstanding, low quality and quantity of candidates, and difficulty in candidate outreach and communication – and this excludes market competition and talent pipeline management issues!
Candidate sourcing is the process of proactively procuring prospective candidates for your company. Often interchangeably used with "talent sourcing", candidate sourcing is beneficial to recruiters and HR teams globally – it is a future-proof way to ensure that potential candidates fit the job description as accurately as possible. Here are 5 amazing ways that you can use to source potential candidates!
Did you know that 31% of all hires are proactively sourced? Or that candidates that are sourced prove to be 2x as efficient as candidates that apply to your company? (source)
Candidate sourcing is currently the best solution to various problems faced by recruiters. Of all the obstacles you face for increasing your company's headcount, a shortage of candidates and lengthy recruitment processes together contribute to 58% of the issue. (source)
While candidate sourcing strategies are often rigorously defined and templated, you are often required to create a custom sourcing strategy for your company. Here are 5 tips that you can use to supplement your sourcing strategy:
Identify your company's hiring outcomes.
The first step to build a definitive hiring process for your company is to come up with hiring outcomes – tangible goals that can be achieved on a periodic basis. By making the end goal of your hiring process quantified and measurable, you are stepping into data-driven recruiting. But how does developing a hiring outcome manifesto help with sourcing strategies?
This process, when done right, helps you stay in sync with your hiring manager. By staying on the same page and having aligned on the requirements expected out of the candidate, the efficacy of the process is greatly improved by removing mutual dependencies of both parties.
This also results in a kickoff meeting, in which the hiring manager's perspective on potential sourcing channels can be obtained beforehand. This, along with determining the ideal candidate, becomes the core around which you can build an efficient sourcing strategy.
Build the ideal candidate profile that fits the job description.
When it comes to unbiased sourcing, it is essential to pre-build an ideal profile – a reference point against which inbound and proactively sourced candidate profiles can be compared with. In this context, an "ideal" profile is that which suits the job's requirements with 100% accuracy.
You can go about in different ways to build your ideal candidate profile, depending on which part of the profile requires priority. However, templating a vanilla candidate profile makes it easier to build future ideal profiles. You can accomplish this by considering company vision, key skill requirements, ideal performance rate in relation to top performers of your company, and ideal platform for outreach.
Ideal candidate profiles make it easier to source candidates faster and keep the level of quality high simultaneously, as it provides a reference line to what kind of profiles you should be on the lookout for.
Use sourcing tools to automate candidate sourcing.
Automation has made a positive impact – both in terms of running costs and convenience – in every industry, it has popped up. 71% of recruiters have stated that they prefer intelligent tools to process sourcing data for them, and 46% of them often find themselves with inadequate data to make rational smart decisions. (source)
Sourcing tools factor in automation and artificial intelligence into candidate sourcing and screening. This leads to building a talent pipeline much faster than conventional sourcing methods, with candidates of higher quality and better fit your company's jobs and overall culture. In fact, 65% of recruiters source candidates from their ATS – an automated solution for candidate sourcing!
Take Webbtree Talent Source, for instance. Webbtree Talent Source is a free candidate sourcing tool that lets you zoom from sourcing to nurturing talent in fifteen seconds. One-click is all it takes. Webbtree Talent Source covers a wide variety of social media platforms, and – best of all – it's free!
Determine quantitative ways to measure success.
Keeping track of your company's sourcing and recruiting is no easy task. However, this can be made much easier by taking into consideration various metrics by which you can measure the level of success of your sourcing strategies.
Some of the popular metrics that can be easily tracked and measured include the average number of communication attempts it takes to reach a candidate, the number of outreach emails (both cold and follow-up) opened, the average time to nurture a candidate into becoming an employee, and how faster the overall talent pipeline is in comparison to inbound applications and recruiting.
The above examples can also be used to determine the most successful candidate sources and talent pipeline management tactics, along with what sourcing strategy works best for your company.
This is possible with Webbtree ATS, an all-in-one automated talent management solution, and is one of the most versatile tools available today! This helps you source better and faster while keeping the hiring process equitable for all candidates. It comes with an employee referral system and job board integrations, letting you diversify your candidate sourcing channels in an instant. Webbtree ATS offers to keep track of communication attempts made by your team as well, and has all follow-up data organized!
Enlist potential candidate sources in order of effectiveness.
Candidate sources are channels from which you are able to reach out to prospective candidates and bring them into your company's talent pipeline. They range from personal networks and social media platforms to employee referrals and job boards. Over time, various channels have made themselves stand out from the rest, whether it be in terms of domain specialization or branding.
LinkedIn is a source of professionals and the first choice of candidates for most recruiters. GitHub and Stack Overflow are great sources of developers and programmers. Behance and Dribbble are two of the best sources of designers and artists. AngelList is the go-to source for startups. Doximity is what you use to source US-based healthcare professionals. Xing is widely used to source candidates from the Central European region.
Because of the sheer number of choices available, you must prioritize and organize candidate sources depending on what your company is looking for. If you are a well-established company, you generally make use of LinkedIn more than AngelList. If you are a software development company, you may consider Stack Overflow over Doximity! Depending on your domain and geography, prioritizing sourcing channels saves a lot of time and unnecessary candidate sorting in the short and long terms.
One glaringly obvious takeaway from the above tips is that automating candidate sourcing is the best investment that you can make as a recruiter. The sourcing and pipelining requirements vary from company to company, which is why there is nothing better than trying it out for yourself, for free! Know what is? Webbtree ATS – a proprietary candidate sourcing and management tool that takes you from sourcing to nurturing talent in 15 seconds. Webbtree ATS comes with an integrated AI-powered candidate recommendation system and makes sourcing from various channels (including social media, job boards, and employee referrals!) as simple as clicking a button. Contact us today to get one step closer to make your hiring process more equitable and accessible.