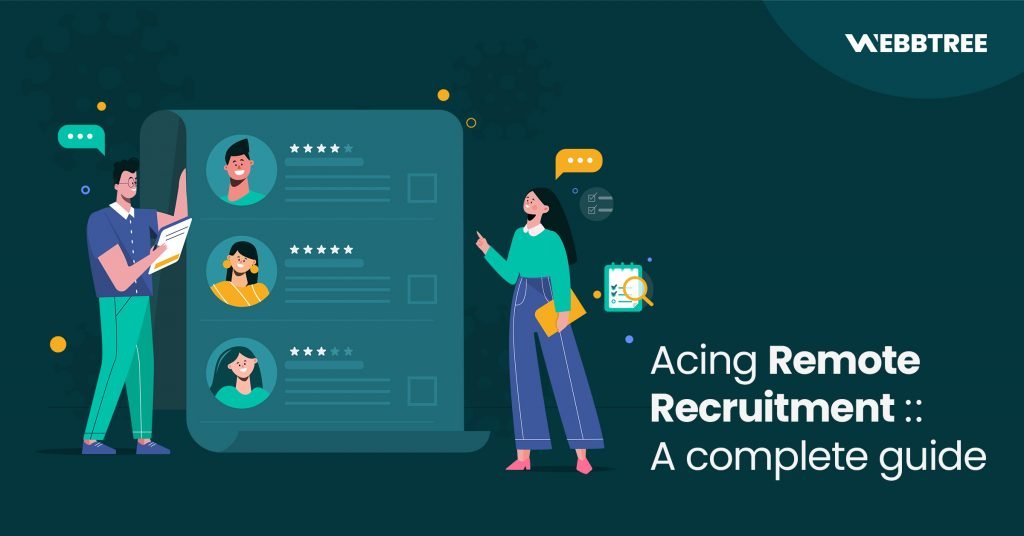 The COVID-19 pandemic drastically altered the ways of the world of business we know. One of them included the entire recruitment process, which most companies had to place on hold for a long time during the initial adversities and had to switch to remote recruitment abruptly. Businesses are facing difficulty when hiring for positions that aren't easy to fill. Accompanying the switch to virtual interviews are a few other changes in the recruiting industry; some for the better, some for the worse.
Today, we will walk you through the significant challenges faced due to remote recruitment, new emerging trends, and the lasting impact of COVID-19 in the complete hiring process. 
Challenges faced in remote recruiting during the pandemic
Virtual recruiting is preferred and prioritized by many companies today, but they face multiple remote recruiting challenges, along the way. Here are some common challenges companies experience before adapting to the changing requirements.
A sudden shift to remote recruitment
A previously unexplored avenue, adapting to remote recruitment took time. No matter how difficult remote hiring was initially, it turned out to be one of the best decisions most companies took during the pandemic.
One of the biggest challenges recruiters face in virtual recruitment is identifying whether candidates can effectively adapt to a remote working style.
Since people respond differently to different leadership styles, for e.g. autocratic might work better for some than laissez-faire, gauging the best fit for a remote environment became difficult.
Attracting the right talent to your organization
The struggle to attract individuals matching the required skill set became difficult. Most problems arose as the same copied job descriptions were making the rounds.
Companies didn't put in the required effort to mention specific skills needed for an open position. Every other person applied, and it became complicated for companies to manually handle the hiring process instead of investing in an affordable candidate tracking system.
The struggle of portraying brand values in front of ideal candidates
Jobseekers look at far more than offered pay in 2022. They factor in brand values, company ethics and flexible work environments, when choosing the best fit for their career goals.
Showcasing honest brand values go a long way in finding the right employees. Using the proper online channels to promote the right message is imperative to this. The companies that successfully adapted to this change experienced better hires in less time.
How COVID-19 has changed the way companies hire and recruit
Companies have adapted to the new normal, which includes their recruiting processes. During the pandemic, some significant changes companies inculcated in their hiring process are as follows:
Virtual interviews have become feasible, although identifying ideal candidates is definitely more difficult now. It was new for both recruiters and candidates, making effective communication difficult for both parties. Many companies still follow a virtual process as video interviews cut recruitment costs by 50%. Hiring is one of the most expensive processes that a company undertakes. Effective hiring, on the other hand, can save funds that can be better utilized elsewhere.
Companies can create efficient remote recruitment teams that specialize in hiring full-time, part-time and freelance employees. Many companies are also building hybrid workforces, thereby giving employees the flexibility to work as they like. Investing in an effective applicant tracking system will help eliminate the unnecessary hassle of scanning, organizing, and scheduling interviews from a large pool of candidates. A system that resembles this one will streamline your recruitment process, remote or hybrid.
Companies get access to a larger talent pool as t location constraints cease to be an issue Hiring people online ensures you can find your next best employees regardless of where they live. The best example is the increased number of jobs landed on platforms like LinkedIn.
The opportunities for job seekers drastically increased as businesses saw the need to upsell themselves during the interview process. Interviewing is no longer a one-way street where only the candidates are the ones trying to impress.
Companies are highly invested in creating a solid reputation online to boost their hiring processes. They work on updating their social channels and post glances at their company culture, lure in future employees. After all, the work environment isone of the top decision-making factors for candidates.
What are the new trends in the recruitment industry post-pandemic?
Let's move on to the new trends that emerged from the pandemic that have settled in for good.
An improved focus on internal hiring
Companies know that internal hiring saves time and effort, which is exactly what external hiring asks from them. That is why they are working to eliminate the hurdles involved in hiring an external candidate. The difference between the costs involved in hiring internally and externally alone makes the former a better option.
Recruiters continuously expand their learning and skill sets
Recruiters have drastically improved their skill sets and adapted to the changing scenario.The challenges faced during the pandemic made this mandatory. They are continuously investing in creating the right employer branding strategy, smoothening the virtual hiring process, and implementing necessary changes based on the evaluation.
Companies invest in providing the best candidate experience
Remember that pandemic has led to an increase in candidates' expectations. Working on making the candidate experience smooth and seamless is a priority The first step to that is to ensure you are on the same page with your ideal candidates.
Consistent remote recruiting became a part of the process
Face-to-face interactions are no longer mandatory to run a successful hiring process. Companies have started using a blend of pre-recorded and live interviews. Instead of replacing in-person interviews, video interviews are used as an alternative.
Video interviews aren't entirely new, but COVID-19 subsequently increased its prevalence . They eliminate the time taken to and work according to the employees' conveniences. They largely benefit both parties, which explains the importance of inculcating it in the hiring process.
Companies are actively following the hybrid model.
Companies must make the most of the fact that hybrid models heavily benefit employers and employees. Most businesses realize their employees are more effective when they work from the comfort of their homes. A hybrid model works in favor of both, thereby creating a happy work environment that works to reduce employee turnover.
There is no denying that the pandemic has changed the way we work. With so many people now working remotely, there is a greater need for recruiting tools that can help to facilitate collaboration and communication.
In the past, face-to-face follow ups and excel sheets were used, but with the rise of remote work, these methods are no longer as effective.
A good recruiting tool like Webbtree keeps track of applications and progress. But that's not all.
At Webbtree, we believe that recruiting should be a collaborative process. That's why our platform is designed to make sourcing, screening, and interviewing candidates easy and efficient. With all the tools and integrations you need, Webbtree is the perfect platform for any business looking to streamline their recruitment process.
With an integrated tool like this, you can:
Manage employee referral programs that expand your network and attract top talent.
Receive AI powered candidate recommendations that help you use your existing database effectively.
Attract inbound candidates with a mobile friendly careers site
Maintain your database of candidates without repetition as Webbtree takes care of duplicates that you may be creating.
Get submissions from agencies/contract recruiters who help you strengthen your candidate pipeline and recruit.
Share a job as a post on social media platforms or simply copy the link to apply and share it via any other channel.
Manage your integrations with job boards and post your job openings to various free and paid job boards in a hassle free manner through the ATS.
Key takeaways
Companies experienced and overcame multiple virtual recruitment challenges during the pandemic, like adapting to remote recruitment, having difficulty identifying deserving talent, and more.
COVID-19 increased the usage of video interviews for hiring talent from around the globe.
Companies started building efficient remote teams over the course of time
Eliminating the location restrictions made it possible to increase the scope of hiring resourceful employees
Businesses started investing money to build a strong brand reputation that portrays the work environment accurately. Overall, the focus shifted to providing a great candidate experience for a successful hiring experience
A hybrid work model proved to be effective for most companies.
Want to know how you can keep your hiring process seamless, collaborative, even in remote & hybrid environments? Reach out us here.