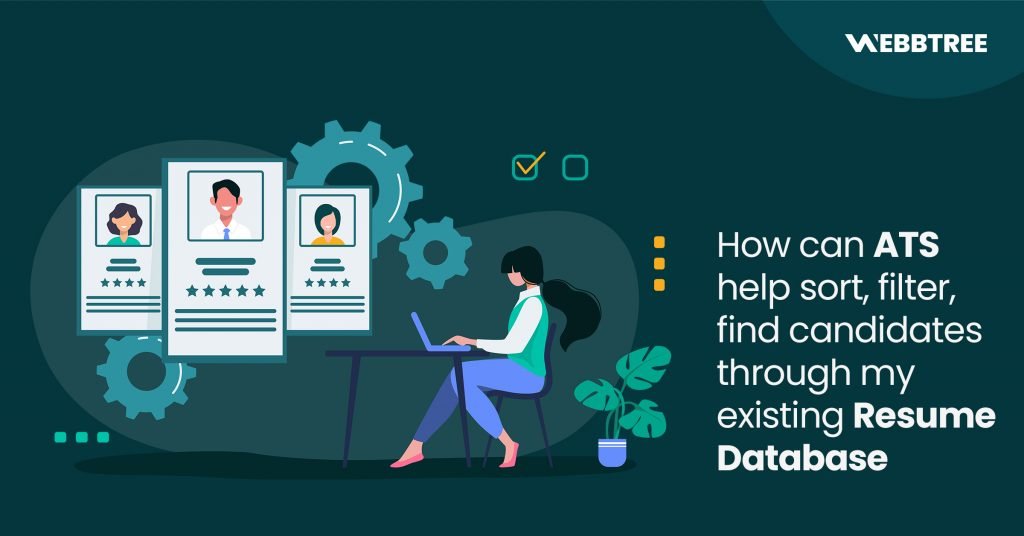 9 out of 10 Fortune 500 companies today use an applicant tracking system (ATS) to streamline their hiring processes. The fact that they always seem to get the best hires may have a little something to do with this.
Most businesses are equipped with an existing resume database that needs to be filtered to identify their ideal future employees. Manually sorting out this data and filtering candidates accordingly takes hours of effort. In such a scenario, businesses must invest in suitable recruitment tracking software to speed up the recruitment cycle and improve the quality of their next hire.
Let's move on to understand how an ATS can assist you in filtering your existing data and help you create an effective hiring process.
What is an Applicant Tracking System (ATS)?
An applicant tracking system helps companies collect, organize, and filter candidates based on their varied skill sets and open positions. When a person submits a resume online, it goes through ATS algorithms which eventually decide whether or not it will make it to the recruiter. The centralized platform helps in tackling different hiring processes in one place with minimum confusion and reduced time. It's incredibly crucial for employers when they are bombarded with hundreds of resumes for an open position.
Furthermore, most of those individuals are unqualified or lack the mandatory skills to become a part of the organization. Yet they apply to try their luck. ATS helps filter the data to ensure only relevant resumes make it to the hiring managers. They keep hiring managers organized and save time and effort by bringing forward the most reliable candidates.
How does ATS help in recruitment?
The features and working of an ATS differ based on the software you are investing in. Some are heavily expensive but provide extended features that others might lack. For instance, some software helps recruiters assess and post on relevant job boards, scan resume hardcopies, headhunting, and more. The overall function of an ATS is to help recruiters smoothen the entire process, from sourcing ideal candidates to finalizing the selection.
Here are some of the standard hiring tasks automated by an applicant tracking system:
Job posting on relevant channels
ATS helps post open positions on relevant channels, including free/paid job boards, the company's social channels like LinkedIn, appropriate community groups, and more. It makes the most of the available channels to ensure a company doesn't miss out on ideal candidates. Furthermore, you can specifically integrate your ATS to target specific international job boards.
Efficient resume screening
ATS helps companies save hours invested in scanning resumes to assess whether a candidate matches the job requirements. It makes the process easier by matching candidates with specific open positions based on relevant factors, including work experience, skills, education level, etc. Webbtree compares these factors to the criteria required to fill open positions and awards an exact percentage match score to applicants, something that can easily tell you which candidates to prioritize over others.
Filtering applicants becomes quicker, and the ideal candidates make it to the hiring managers. Hiring managers can further decide whether they want to schedule an interview or weed out the candidate.
Assists in configuring application forms
Sometimes candidates have relevant education, work experience, and knowledge in a particular area, yet they aren't the right fit for a specific company. Or candidates have skills that are hard to assess through their resumes. ATS helps you engineer application forms that ask the right questions– so that you can deem who is a better fit for your company by looking at the answers. The form could have a mix of qualitative or quantitative questions, and allow you to rank candidates based on their responses for easy evaluation.
This saves you time in the later stages of the hiring process.
Craft a structured interview process
Applicant tracking softwares focus on crafting a structured interview process to ensure a collaborative & customized interview for that profile. For instance, Webbtree Recroot helps companies' create interview scorecards based on varied stages of a candidate's profile for collecting actionable feedback. Based on the collected feedback, the team can take further action. Furthermore, the software also assists in creating personalized hiring flows and easy integration with tools like Google apps.
Another critical aspect is scheduling interviews and sending calendar invites to relevant candidates. Some candidate tracking software also personalizes these invites and integrates video calling apps like Zoom for conducting interviews with less hassle.
Run and track email campaigns
Writing, scheduling, and tracking emails to candidates to keep them engaged & informed is another core hiring function. With the right candidate tracking system, you can successfully run these email campaigns in bulk & track to ensure you always target and hire suitable candidates.
Easy collaboration with the hiring team
Hiring suitable candidates in an organization requires team effort. Most ATS also help in connecting with your teammates without leaving the platform. Group discussions become much more manageable, leaving no room for confusion.
How does ATS filters applicants for recruiters
An Applicant Tracking System takes into consideration many different areas for filtering candidates. For companies with an existing resume database, an ATS helps by recommending the most suitable candidates based on the fed requirements. Some of your most ideal employees are hidden in your current database. Instead of looking for new applicants, you can filter this data for adequate hiring.
An ATS compares the skills and qualifications mentioned by hiring managers with the candidates' profile, assigns a relevant scorecard, schedules interviews, and eases the process of final selection. Furthermore, ATS algorithms tend to match the most suitable candidates based on the available job requirements. It immediately eliminates the ones who fail to meet the mandatory criteria. The rest of the candidates are ranked according to their potential by analyzing relevant qualification indicators.
In the end, recruiters come across the most sought employee profiles and save time by not interviewing unqualified candidates through a competent ATS.
Why should businesses rely on an ATS?
ATS assists businesses by solving multiple problems at the same time. Here are some essential things that emphasize the importance of immediate installation of an Applicant Tracking System:
Helpful for companies that are regularly hiring
Every business can benefit by successfully installing a candidate tracking system. But it is specifically helpful for companies consistently filling in new positions. With the increased number of job seekers, reliable software will assist you by saving the time and effort required in sorting candidates. The exact time can be invested by hiring managers in other core tasks. Lastly, businesses must eliminate the hassle of manually handling multiple tasks and rely on complete automation.
Assists businesses with a lengthy hiring process
Businesses with a lengthy hiring process often benefit from using an ATS. It helps keep track of the progress, eliminates confusion, and leads to effective communication. The ranking feature helps the hiring managers make the right decision.
Provides a large pool of potential employees
An ATS helps candidates easily apply for open positions using any suitable device without the hassle of logging in. This provides companies with an improved number of candidates, making hiring the best ones more feasible.
Get Started with ATS & more: How Webbtree Recroot can help
Webbtree Recroot is an end-to-end platform that allows you to post jobs across various job portals,  source candidates, put them in pipelines & a fully functioning ATS- all in one. This means that you fill in the criteria you are looking for in our smart toolbox, select the channel you have in mind and let Recroot do the job for you. No more switching between platforms, or engineering complicated Boolean searches for platforms that aren't tailored for it anyway. Webbtree also has a contact enrichment & recruitment dashboard to ensure end-to-end coverage. 
As far as ATS goes, Webbtree Recroot is the most well-rounded subscription for you– this saves on the confusion of using multiple apps to do the same thing for you and money in the way of several subscription fees. Visit our website and enjoy a free trial to understand what it can do for your business.