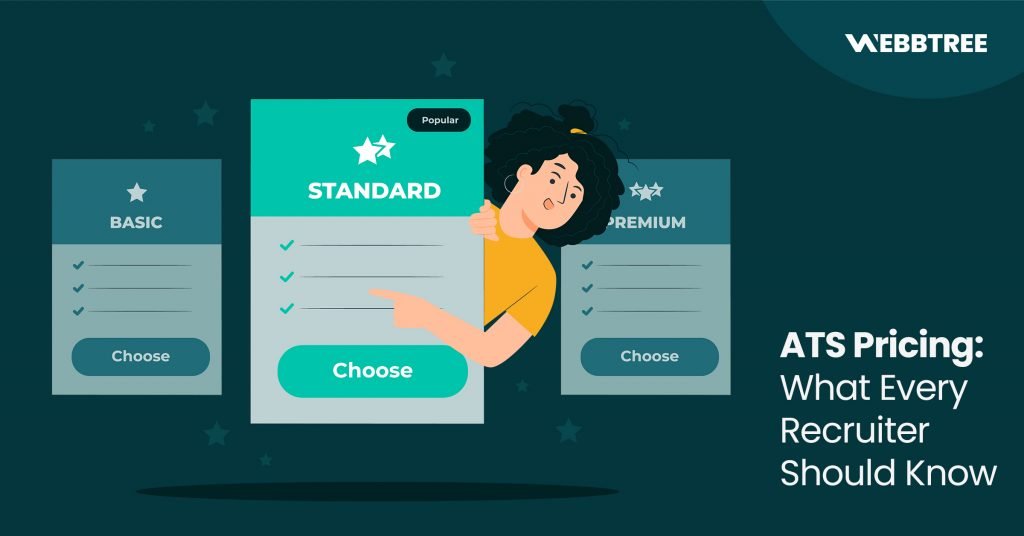 In a perfect world, every recruiter would have a magic wand – but in this one, you have ATS (which is no less than a secret weapon) to supercharge your recruiting strategy. To be specific, almost 86% of recruiters like you said that getting an ATS decreased their time to hire. With an effective ATS at your disposal, you can – automate repetitive tasks, lower hiring cycle costs, increase candidate engagement, and get more done. But an ATS is also no less than a colossal investment for your recruitment process – that's the reason, measuring its ATS pricing-to-benefit ratio is important before investing in such a system.
There are a plethora of Applicant Tracking Systems today, with different shapes, prices & sizes. So how you can choose between them? You can start by analyzing your recruiting needs, your hiring frequency, and your budget for an ATS. ATS pricing models today can vary a lot as well depending on several factors – such as the company size, frequency of recruiting, number of users, features, and more. Considering the different recruitment requirements of the companies, let's dive into the prevalent ATS pricing models to understand this better.
Popular ATS Pricing Models
Pay-per-job model
The Pay-per-job pricing model charges the company only when an applicant applies to that particular job or when a particular job opening is created. It's quite a helpful pricing structure, especially for enterprises that usually have a lot of hiring needs – starting from $100 and ranging up to $500, but not very reasonable as your hiring needs increase.
Pay-per-recruiter model
The Pay-per-recruiter model is by far, one of the most popular ATS pricing strategies where its cost is determined by the number of users who are accessing the software. Such a pricing model is convenient for companies that have a small hiring team, a fixed process in place, and hire quite frequently as you want more and more people to access your ATS. However, its costs might vary according to the title of the job since the requirements of a hiring manager can differ from that of a recruiter.
Pay-per-employee model
Based on the organization's size, the Pay-per-employee model is ideal for companies with a large hiring team. You are charged based on the total number of employees, regardless of your hiring frequency. While it might seem a detrimental option for a company with a smaller team, a company with more employees may benefit from such an option.
Flat fee model
Only quite a handful of ATS vendors offer this when they allow certain companies to use all the features of their ATS software where the company has to purchase either a one-time license or invest in a monthly/annual subscription. It is especially a great option for small to medium-sized businesses that want to not be charged for every new license/job opening.In long term, this option can lead to greater savings.
Custom Quote model
Typically practiced by large enterprises, here the interested companies contact the ATS software solutions to ask for a quote or custom pricing. There is a general threshold like the number of employees/ job openings planned that are considered for this method. It also depends on the size & no of employees in a business. It can be a good option, especially if you have custom requirements that are not covered elsewhere.
Comparison of ATS Pricing across Top Players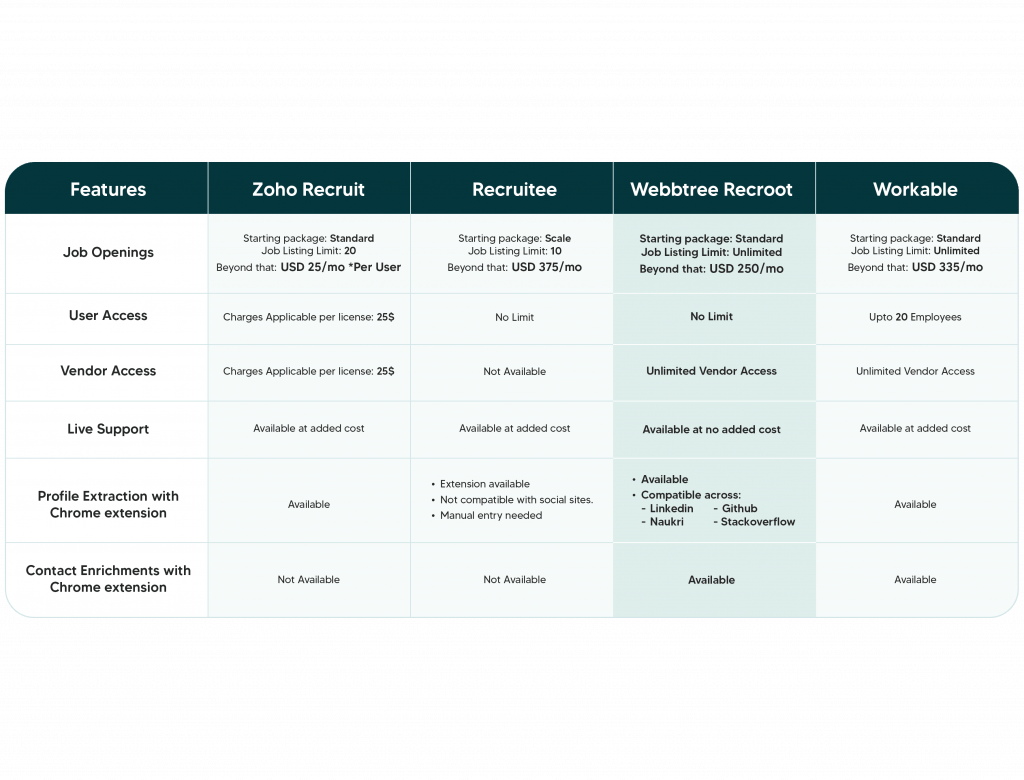 Conclusion
Choosing an ATS is no game of rock paper scissors; so calculating its value-to-cost ratio stands out to be an ultimatum for every recruiting team. Ask questions like – Will it contribute to the growth of your company's ROI? Is it easy for everyone on the hiring team to use it? How much time can the team save with such an ATS?
The ideal ATS will answer a "Yes" to all the above questions by ensuring that the overall recruitment process becomes seamless led by shorter hiring cycles, one-tab operations, and a better candidate engagement strategy.
But today the ideal ATS should be doing more than just regular job postings and candidate engagement bits. Unlike any other ATS, Webbtree Recroot goes the extra mile to become a one-stop platform for all your recruiting needs. From the initial job posting to sourcing and even applicant tracking – you can avail of end-to-end recruitment processes and more without opening multiple software.