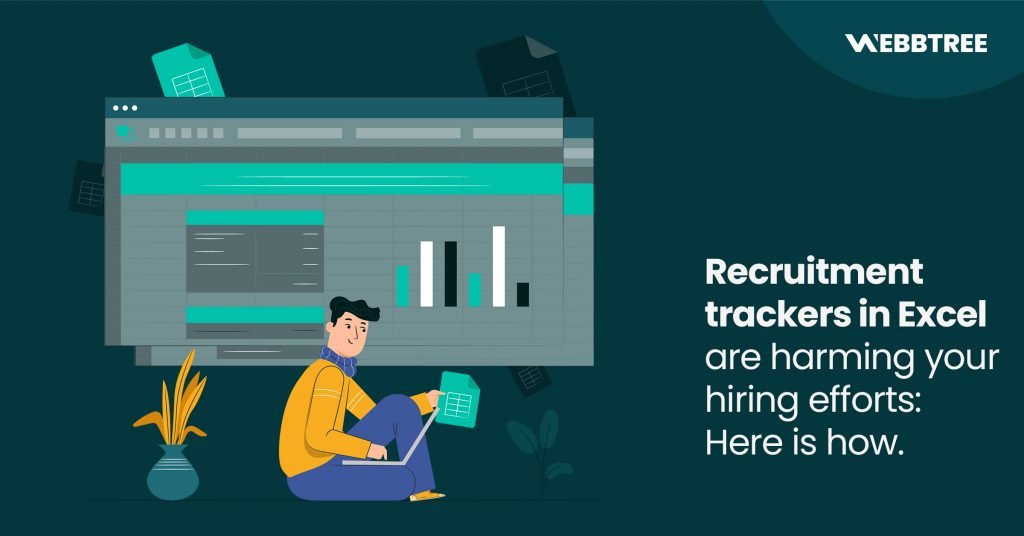 On average, every corporate job post receives 250 resumes- which means 250 resumes & applicants to assess and those many applications for just 1 position. So how does a recruiter keep a track of these? Long tedious recruitment trackers in excel sheets or recruitment trackers in google sheets are the most common answer for these- There is literally a spreadsheet for everything: candidate tracking spreadsheet to interview tracking spreadsheet & an applicant tracking spreadsheet, there are hundreds of spreadsheets meticulously maintained by recruiters on daily basis.
But even with multiple sheets, and versions of Recruitment trackers in Excel being worked on every day, there is a great chance of inaccuracies, inconsistencies & chances of critical candidate detail missed in translation. When missed, it can lead to a broken experience: both for the candidate as well as your stakeholders. As the number of openings & requirements increase, there is so much candidate information coming in, that it is impossible to maintain your talent pools in a recruitment tracking spreadsheet.
Microsoft Excel, Google sheets, or any kind of spreadsheets were not designed for Recruitment. Yet Recruiters are being pushed into using this, causing a ton of hours being wasted in copy pasting, checking, maintaining & retrieving this,
Why Recruitment trackers in Excel or Google Sheets fail to be an efficient recruiting tool:
Data Storage, Search & Retrieval
The recruitment cycle involves data collection, storage, search, and retrieval. While all these processes look simple, for multinational companies and SMEs, they pose a very difficult challenge. As the number of openings & candidates increase, finding & retrieving candidate data when you need it is difficult.
Moreover, efficient retrieval, storage of data needs knowledge & expertise in excel features like Vlookup, Macros which is not an easy feat. For a time starved recruiter this is the definition of frustration,
To effectively store, retrieve and present each potential employee's data when required, and searched with different criteria a faster tool that can keep up with the real-time needs is required. This is especially true for both large & growing businesses where only a few techies are assigned to manage data processes.
Team Collaboration
Collaboration between recruiting teams internally as well as inter-departmental teams like hiring managers, and top management is essential for a seamless hiring process.
However, team collaboration is impossible without a seamless communication platform, and this is exactly why excel is found lacking when it comes to working in groups. Data collated by recruiters need to be shared with other stakeholders like the interviewer, hiring manager, and even coordinators- internal & external.
The result? Every involved party is affected and there is much time spent sorting, addressing, and scheduling meetings with potential employees.
Privacy and Trust
One of the top priorities of every firm, large or small, is to preserve the data they own from hackers and possible accidental exposure. And thanks to the ever-growing risk of cyber security, most people find it difficult to provide inclusive information about themselves to a third party.
Although Microsoft Excel is relatively safe for a legacy tool, it does not offer the required standard of protection for enterprise-level data. Excel features like power query are used to connect with external sources including the website and other databases. However, hackers can send in malicious signals through this connection and extract or corrupt the stored data.
Also, Excel features a one-click tool that allows for bulk data download into a single XLS file so long you have access to it. This does not ensure maximum security in safekeeping potential employees' details.
Any breach of this data can cause serious repercussions to your pipelines & your employer brand image.
Data Backup And Recovery
There are several factors responsible for data loss including human error, faulty hardware, and software bugs. Any of these could result in the loss of data worth millions of dollars.
While excel offers a recovery tool to salvage data loss when necessary, it is still inefficient for certain reasons. The recovery option is limited to previously saved data. And this means, that every new entry after the last save and before the loss, will be irrecoverable.
Another problem with Excel when it comes to data recovery is that the in-built recovery tool does not always provide a solution to lost or corrupted data. Microsoft recommends the use of third-party software, and this could mean a potential exposure of your recruitment info.
Analytics And Reporting
Excel spreadsheets have a knack for executing simple number calculations and row/column manipulations. The introduction of more complex processes like Data Analytics and Reporting builds too much demand on this tool.
Reports on excel spreadsheets are usually static and cannot be updated in a real-time frame. The data you have access to, by default, is also most likely old.
To access the current data, you need to operate excel in a new time frame. This is something only a tech geek can do by connecting with a database online through macros.
Manual And Repetitive Tasks
Most tasks on excel spreadsheets must be repeated continuously and manually by the end-user. These include inputting the applicant's contact details, naming all the data sets, and copy-pasting resume info into folders individually.
Imagine having to spend hours recording every potential employee's information without having the aid of automated tools to fill in similar data boxes. After that, you might need to extract each of these data when required and forward it to other top stakeholders for decision-making.
This is a waste of time for Recruiters who would rather spend that time finding new candidates. It is no wonder ATS is widely preferred by recruiters globally.
Broken Candidate Experience
The candidate experience is one of the most important aspects of a job hunt. With increasing competition, even the slightest misstep can turn the right candidate away from you. But recruiters don't get time to work on this, coz they are busy spending way too much time in Excel instead of the job they were hired for: hiring. The bigger the pile of resumes and candidates, the harder it is for the recruiter to keep track. A recruitment tracking spreadsheet is not a CRM or an ATS, so all of this takes a lot of time & toll on recruiters to maintain.
Removing Duplicate Profiles
With Multiple team members accessing & updating the excel sheets from time to time, duplicate candidate profiles are a major issue. Even with multiple formulae in place, it is tedious to manage.
Here is where having a tool like Webbtree Recroot can help: By pointing out upfront when a duplicate profile is added.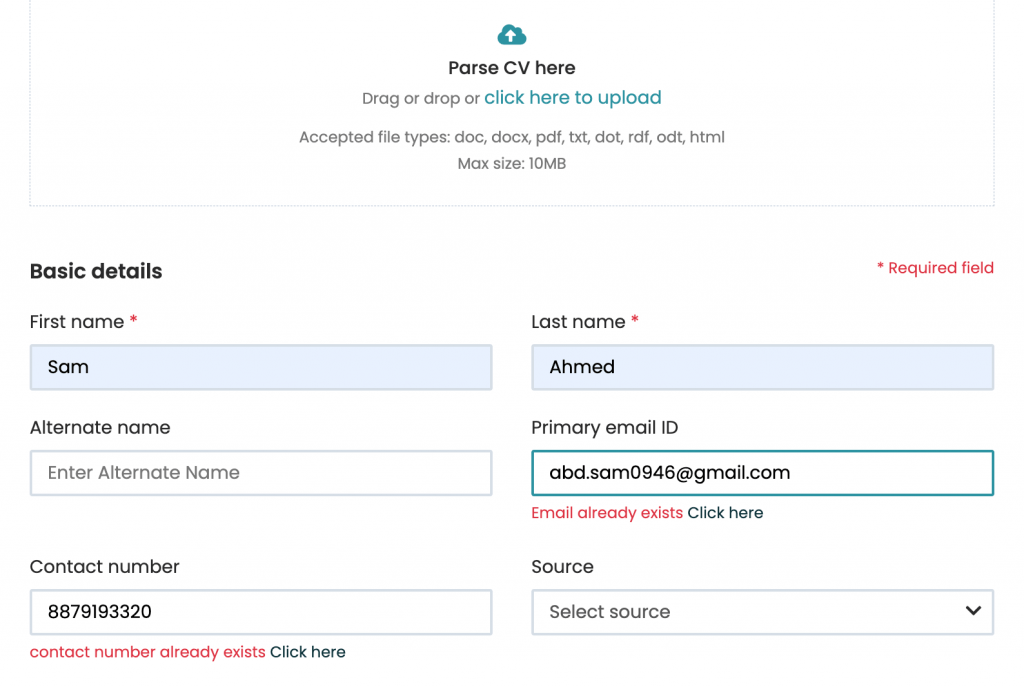 So what is the solution to this?
Bringing all your data together, tracking applicants among thousands, scheduling interviews, collaborating fearlessly, all in a few minutes & clicks with Webbtree Recroot.
Webbtrree Recroot is an end-to-end platform for recruiters- combining a sourcing dashboard, Talent CRM & Applicant Tracking System- all in one place. With Recroot, you can automate your entire recruiting process with much more efficiency, with all candidate data organized at their fingertips. By building a centralized single source of truth for your Recruitment teams, Recroot helps supercharge your team's productivity.
Reasons why a Recruitment software like Recroot can be a gamechanger over using a Recruitment tracker in Excel:
Improved Team Collaboration
Team Collaboration contributes largely to the success of any recruitment process. Every participating stakeholder, hiring manager, interviewer, coordinator, and others need to share access to the same information.
A recruitment software like Recroot provides a real-time collaboration platform over a recruitment tracking spreadsheet for enhanced team communication. Feedback for interviews can be shared instantly & crisply, and is available to all relevant people. Any update in the interview process for an opening can also be shared with all relevant parties.
Save time, improve productivity
In contrast to using a standalone excel/ where you need to constantly copy-paste data to & fro to emails,job boards, CRMs, etc., Recroot automates all the manual parts of recruitment-like posting to multiple job portals, sending candidate emails, maintaining email updates & candidate data & sharing them with others. Even items like interview scheduling, and feedback management can be all automated without the recruiter having to follow up or copy-paste every time.
Consistent Candidate Experience
Use of Recruitment trackers in Excel for recruitment gives the candidate a non-personalized, fragmented experience about your brand. The process takes longer, and feedback is sluggish, leading to a broken employee experience, which may turn off many candidates, especially in a bull hiring market. With Recroot, provide a seamless & consistent experience, with both your external stakeholders(candidates & agency partners) & internal stakeholders( recruiters &hiring managers) all on the same page.
Unsatisfactory use of Candidate pipelines
Having a talent pool that is not centrally or easily available to your team means you miss out on talent nurturing or getting any value from your talent pipelines, that are lost in old email threads & 10 different spreadsheets. With Recroot, you can enter the candidate information in your pipeline from your sourcing dashboard in one click. Those pipelines can be used for talent nurturing campaigns directly & also as a starting point for a similar job opening.
Conclusion
As competition for hiring becomes cutthroat &job requirements become more intricate, the right recruitment tools can make or break your hiring process. That is where a tool like Recroot helps.
Instead of going for obsolete tools like Microsoft Excel or any other Recruitment trackers in Excel and wasting days entering and retrieving candidate data, your recruitment teams can actually spend time on where it is the needed-the actual recruitment process.
With better productivity, Faster Hiring & a Great candidate experience, Recroot scores high on the top 3 priorities of every hiring team.
Want to know how Recroot can replace your excel tracking sheets, Recruitment CRMs, Applicant Tracking Systems & more?