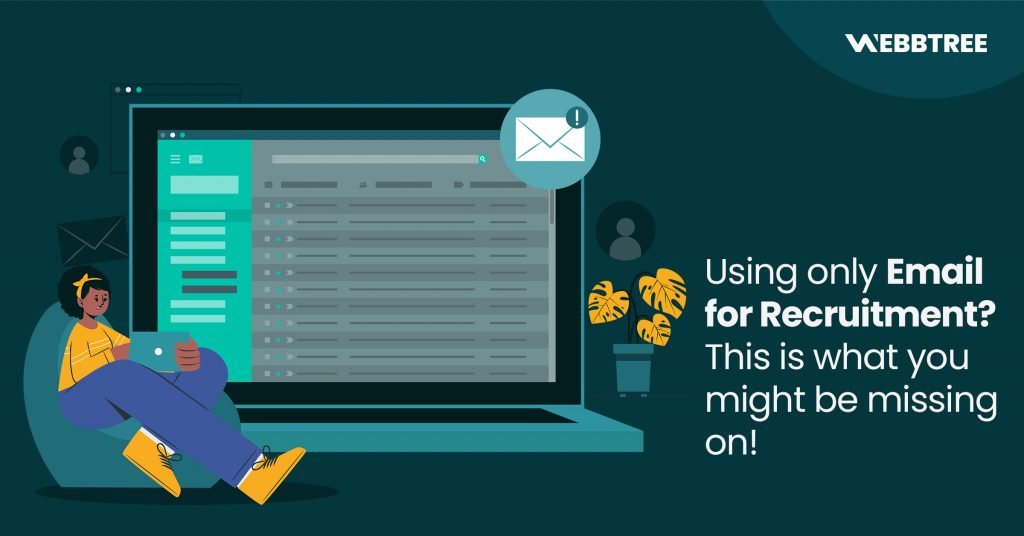 Recruiters are constantly under tremendous pressure to hire more people faster, while not compromising on the candidate's experience. But, the recruiter's workflow is still stuck in the past. Most recruiters still use email as the main communication mode. In a typical recruiter's inbox, there can be 50-75 emails a day, where only 3 or 4 are about real jobs. By the time they reach those 3-4, half of the day is already gone. But if they skip this, they might risk losing the right candidate in the cracks. And that is just the tip of the iceberg of problems that are caused by using only email for recruitment.
There is a new email at every step of the hiring process: cold recruiting email, feedback on interview email, internal job posting email, recruiter email to the hiring manager, online interview invitation email, feedback after interview email, hiring email, and so on. Till the point that the inbox with multiple email threads feels like your stomach after the holiday season- choked & slow.
But this is not the only reason. Let's dive deeper into the downside of relying on email only for candidate communication & applicant tracking:
Recruiter Problems with using only Email for Recruitment
Incorrect Email Categorization
Electronic mailing platforms have different algorithms in place to filter the emails received. Often, recruitment emails are categorized as Spam emails. The problem is that a larger percentage of email users barely check their spam box unless told to or by coincidence.
An offer letter or a shortlisting mail sent to your to-be employees will likely be labeled as a spam email by the algorithms in place. And this means you are likely not to get any response since the other party is unaware of the mail you sent.
And the same can happen at your end, leading to a break in communication.
Lack of personalization
Recruitment is no different than a sales pitch to a new candidate. To pitch talents for recruitment purposes using email, you need to personalize your communications. Standalone electronic mailing platforms, however, can only be used for rigid bulk emailing.
Lack of personalization in email systems can impact the view of your to-be employees concerning your company. Even with excel sheets attached, there are still chances of placeholders left here like this one.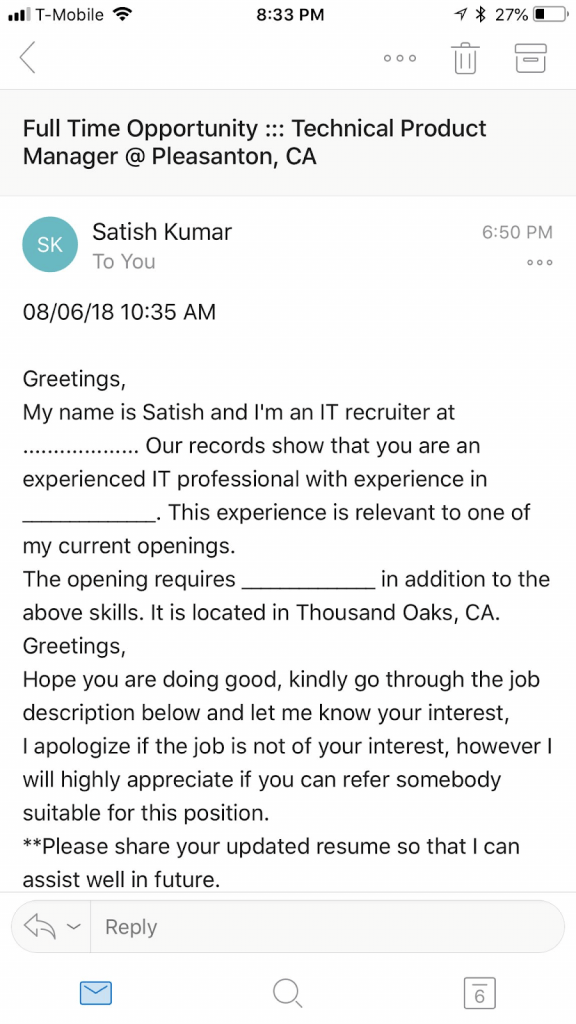 No centralization of data/conversations
The nature of emails make them specific to a particular sender, which means the track of conversations & trails are all with a particular user, not accessible to everyone in the team when needed. So bye-bye to transparency or centralized data.
No collaborative hiring internally
Your internal team & diverse stakeholders prefer using different channels like slack, SMS, email, WhatsApp & verbally to share feedback & status update for hiring. This means that even a simple status update takes a long time. The silos mean a long hiring process and a bad candidate experience.
Not able to Automate the mundane tasks
With emails, every calendar invite, every job posting, every candidate reach out has to be done manually- leaving recruiters very less time to focus their efforts where it really matters: Recruiting.
Slow hiring process
What happens when every candidate or hiring manager update is hidden behind a mountain of your emails & email threads? What would happen when every time you are looking for a promising candidate from the last round, you feel more and more frustrated? The hiring process slumps down with a lack of momentum, while answers are hiding in not-so-plain sight.
To sum it up using only email for recruitment is sucking up your teams' productivity and their time, but also delivering a bad candidate experience, which might cause your chosen candidate to lose interest & stop responding.
This is why recruitment automation tools like Applicant Tracking Systems (ATS) are so popular. They tie all the candidate data together in one place making it easy to access and reach out with meaningful candidate communication. ATS also automates mundane activities on email like sending interview emails, feedback on interview emails, internal job posting emails, recruiter emails to hiring managers, online interview invitation email, hiring emails, job postings & so on, saving your team's valuable time. Here is how you can choose the right ATS for your organization.
But there is still one process that most Applicant Tracking Systems ignore: candidate sourcing. Finding candidates, entering their data, creating direct talent pipelines with 1 click & sending them custom emails are features that recruiters wish for but are disappointed in. That is why we created Webbtree Recroot.
Webbtree Recroot is a one for all platform for recruiters- combining a sourcing dashboard, Talent CRM & ATS- all in one place. With Webbtree Recroot, you can streamline your entire hiring process with all the mundane activities automated with a click. From reducing the time spent on accessing candidate data to collaborating with candidate & internal teams, Webbtree Recroot takes your team's productivity to the next level.
5 ways Webbtree Recroot can be a gamechanger over email for Recruitment
Here is where a recruitment platform like Recroot flies miles ahead with email for recruimentt:
Accessible Email Documentation
Email is often seen as a means of communication among firms, but the truth is, it is also equally a documentation system. All the resumes, contacts, and files that are gotten during the initial stages of recruitment can be stored for future references. But only relying on email for recruitment means constantly digging up the depths of your inbox anytime you need candidate data.
With Webbtree Recroot, you can manage all of the email entries, categorize them, and extract and refer to the data inside whenever they are needed. Moreover, there is less risk of missing mails due to spam categorization if you are using recruitment software since there is also an applicant tracking system. You can also have centralized access to all email threads to make sure the ball is never dropped on a candidate at any point.
Improved Team Collaboration
Team Collaboration contributes largely to the success of any recruitment process. Every participating stakeholder, hiring manager, interviewer, coordinator, and others need to share access to the same information.
A recruitment software like Webbtree Recroot provides an equitable & collaborative hiring process for enhanced team communication. Feedback for candidate interviews can be shared instantly & crisply and is available to all relevant people. Any update in the interview process for an opening can also be shared with all relevant parties.
Save time & effort
In contrast to using a standalone email for recruitment where you have to still manually copy-paste and write everything from scratch, Webbtree Recroot automates all the procedural parts of recruitment-like posting your opening to multiple job portals, sending emails to every candidate & hiring stakeholders, maintaining email updates & candidate data. Even activities like interview scheduling email and feedback from interviewers can be all automated & updated without the recruiter having to follow up or copy-paste for hours.
Consistent Candidate Experience
The use of email for recruitment gives a non-personalized, broken candidate experience about your brand. The hiring process takes longer, and feedback from hiring managers is sluggish, which may turn off many candidates, especially in a bull hiring market. With Webbtree Recroot, you can provide a seamless recruitment experience, with both your external stakeholders(candidates & agency partners) & internal stakeholders( recruiting teams & hiring managers) all on the same page.
The right use of Talent pools
Having a talent pool that is buried somewhere in your inbox means you miss out on talent nurturing or getting any value from your talent pipelines, losing out chances of converting a promising known candidate. With Webbtree Recroot, you can enter the candidate information in your pipeline from your sourcing dashboard in one click. Those pipelines can be used for talent nurturing campaigns directly & also as a starting point for a similar job opening.
Conclusion
Emails are not built for handling the needs of recruiters in particular or the complex nature of the Recruitment process. If you are using only Email in recruitment with a spreadsheet, you might be losing out on every facet of making your recruitment experience productive, efficient & Seamless.
Want to try Webbtree Recroot firsthand to see how it uplifts your employer brand & hiring experience?