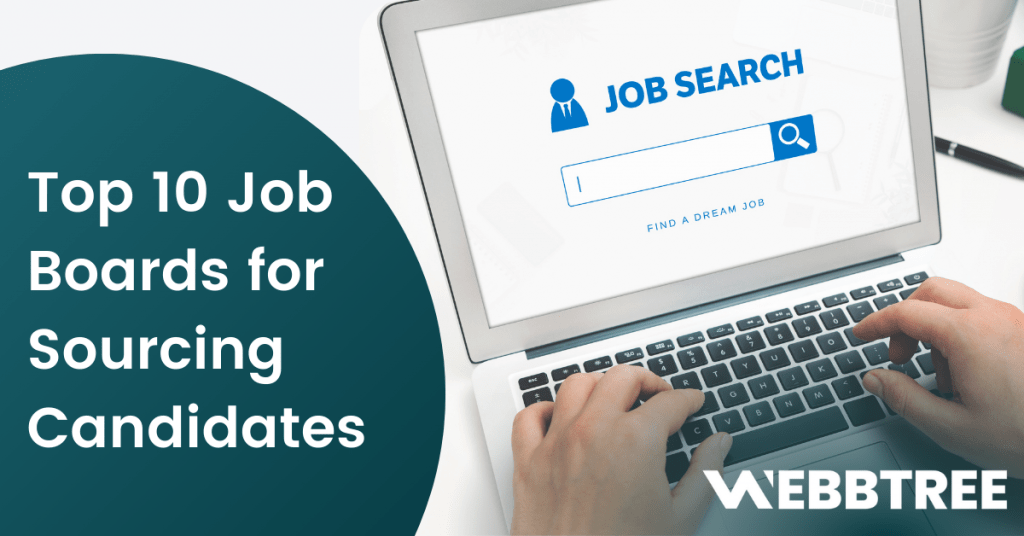 Job boards are more than just a place to post job ads. They also serve as resume databases by encouraging candidates to upload their resumes. Instead of posting an ad and waiting for incoming applications, they allow recruiters to search resumes online using multiple filters such as location, skills, education level, and combination, which instantly find matching profiles without posting an ad on the board itself.
Posting a job online is perhaps the first step when you have an opening. But it contains some significant flaws in attracting qualified talent, such as job ads merely attract applicants- who are actively looking for positions. On the other hand, sourcing from the Internet, online resume databases, ATS/CRM systems, and similar resources offer a more active strategy that allows you to target passive candidates and find the perfect fit for your company. Here is a list of 5 of the best methods you can use to source candidates for your company.
It has never been more essential to find candidates who are the best fit for your company and job opening. Job boards can be a great way to do that, but it's crucial to know which ones will help you with your goals. If you are not looking to post job ads, you can make use of this resource to find alternate methods to source qualified candidates.
Top 10 job boards to source candidates from
1
Indeed
Founded in 2004, Indeed.com is the internet's most popular jobs website with over 250 million unique visitors each month from 60 countries and 28 languages (source), which gives you access to high-quality candidates in every field. You can also pay to have your job postings promoted to reach more qualified candidates faster. If you're looking to post your job opening on Indeed, you will have to start by creating a free account.
2
Glassdoor
Glassdoor is the world's most prominent online job and career community. Glassdoor is free for job listings. It also helps employees, employers, job seekers, users to share information about companies and jobs that includes reviews, interview questions, salary details, office photos, and other information to make a better career decision.
3
Monster
Monster.com is the world's leading online recruitment site with over 65 million registered users, around 2.7 million job views per month in more than 40 countries. Monster has made it easier for companies to advertise their available positions on one site instead of looking for other job boards. With Webbtree ATS, you can directly share jobs to Monster's job board!
4
Craigslist
Craigslist is a website where people post classified ads to sell goods and services locally. It has been one of the most popular websites for employment since its inception in 1995. Craigslist is no longer a free posting site for job openings. For jobs in selected areas, you'll have to pay a fee that ranges from $10-$75 (charges vary by region).
5
CareerBuilder
CareerBuilder is a website that provides a range of services for companies, employers, and employees. It features over 2 billion jobs from several companies in the United States, Asia, Canada, and Europe (source). It also provides resume database access, and you'll be able to search for relevant candidates.
6
Dice
Dice is an award-winning platform for hiring tech professionals. Employers can search through over 60 million candidate profiles and get insights, data on careers in technology while putting the state of the art tools into hands that seek highly skilled talent. Posting a job on Dice for 30 days will cost you $395.
7
Upwork
Upwork is the leading freelance marketplace where employers can find independent professionals in 180 countries around the world. The platform allows employers to find top talent in the fields of design, video and audio, marketing consulting project management.
Upwork is a great place to find freelance writers, editors, and designers. You can list your job openings for free on Upwork.
8
Gigajob
Gigajob is a global job board that connects employers with employees in more than 100 countries. Gigajob's services are free to all users, and it does not charge fees for employers or job seekers. It is primarily based in Germany.
9
Careerjet
Careerjet is a job search engine that helps people find their perfect career by giving them access to jobs in over 90 countries with 28 different language interfaces. Careerjet is a job search engine that offers candidates access to their extensive database of jobs gathered from other recruitment sites.
10
Dribbble
Dribbble is a website for designers to share their work, showcase talent, and get hired. It is an online community with its primary demographic composed of designers. Recruiters look through the shared projects to find potential employees that would be perfect for their company as graphic designers.

You can make use of Webbtree Talent source to source candidate profiles from Dribbble, among other platforms!
The graph below showcases how cost-effective different job boards are, based on categorized relative costs (low, moderate, high), and what percentage of jobs have been filled within the expense category (source).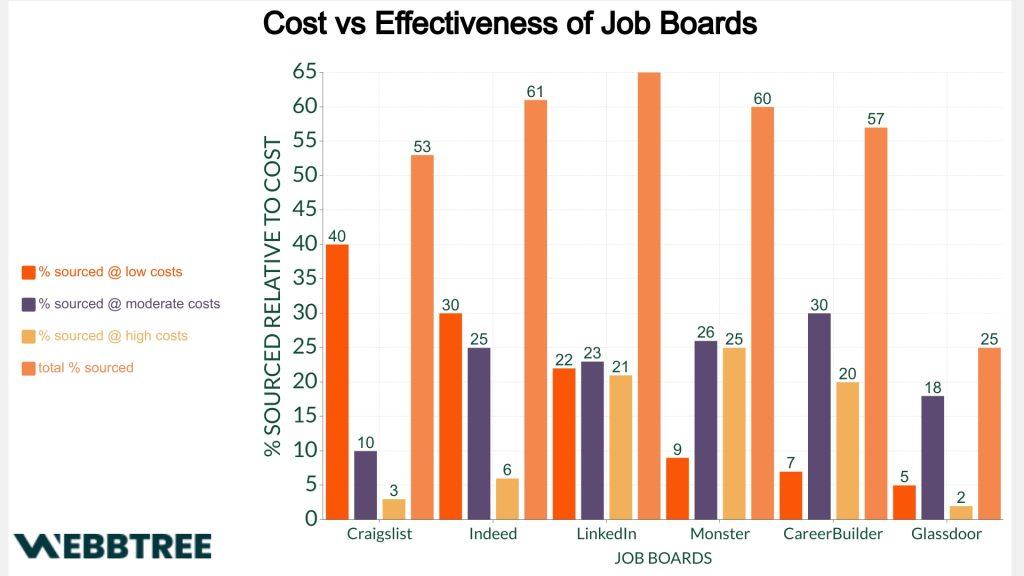 If you're looking for a new hire, it can be hard to know where to start. There are so many job boards out there with different features and advantages that it can seem overwhelming when trying to find the right one. By making use of Webbtree ATS, you can integrate all of your candidate sources into one database – and that includes job boards! Webbtree ATS also automatically lists jobs created on Google for Jobs to easily get more candidates. This comes in tandem with the ability to directly integrate an increasing number of job boards (starting with Monster) with Webbtree ATS, making it that much easier to share jobs directly. We also make it easy for candidates to apply for jobs from their phones!
See a profile you like? A single click is all it takes to save it to your pre-existing candidate database! Want to know more about a specific candidate? Make use of our 5 free monthly Premium Enrichment credits to delve deeper into any profile you want!
If you'd like more information about how Webbtree can help your organization with candidate sourcing and hiring, contact us today.