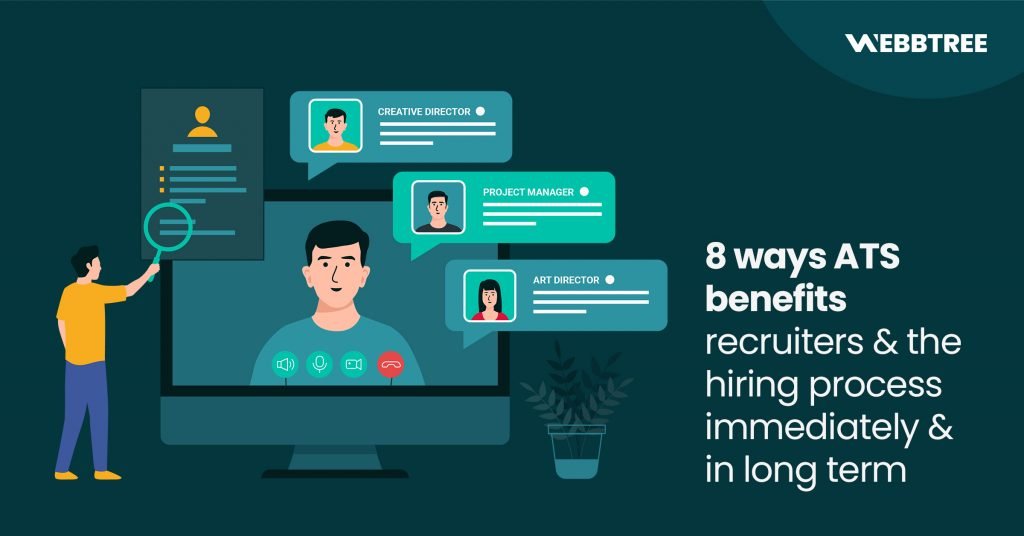 In an ideal world, recruitment would be easy & fast as 1-2-3. Find the right candidate-> schedule an interview-> roll out an offer. But the picture in the real world is starkly different. There are atleast 7-10 steps in the recruitment process: right from drafting a job description->posting the job on various job boards-> creating talent pipelines of promising candidates-> scheduling interviews-> Candidate Screening-> Managing feedback->Sending a Job offer. And that is still an ideal world scenario.
Imagine this happening for 20 candidates for 5 positions at a time. It is enough to make Recruiters feel like pulling their hair & everyone else's too. This is where an ATS (Applicant Tracking System can bridge the gap, by automating the mundane parts & streamlining the process.
There might be many benefits of ATS that has been called out many times. But what are some quick & long-term benefits of going for an ATS? Let's check.
Immediate Benefits of ATS after onboarding
1. Browse through only relevant applicants
According to Glassdoor, Every Recruiter today has to go through 250 CVs on average for every job opening. If you add your outbound recruitment efforts & candidates sourced from there to that list- Boolean searches, LinkedIn, job boards, sifting through applicants take a majority of the time for a recruiter every day. With an ATS, find the most relevant candidates from your database based on the job description and other details that you have entered, shortlisting candidates for you. Here is a more detailed take on how an ATS helps to filter and sort through CVs.
Tools like Webbtree Recroot take this a notch ahead, by helping you search for relevant candidate profiles from different platforms like Linkedin, Stackoverflow, Github, Behance & others through a boolean search-powered dashboard.
With an ATS, your CV scrolling times thus are quickly reduced, leaving you to deal with the most qualified candidates first.
2. Provide a Uniform Candidate Experience
Your recruitment process is the first impression a candidate gets of your brand. Right from the first communication, down to the onboarding process, every candidate needs to be provided with a uniform & seamless candidate experience. This promotes your brand's image as being a fair, organized, process-oriented employer.

Having all of the candidates' information centralized and organized in one single platform allows recruiters to have a clear view of the hiring process. A mobile-friendly career site managed by recruiters can help candidates apply easily & recruiters stay on top of updates.
ATS can also help collaborate with both your candidate & internal teams: receive and screen applications, assess candidates, send personalized email communications, rank and comment on each candidate's profile and make collaborative hiring decisions. Maintaining constant communication and providing feedback at every stage of the process is crucial to avoiding a poor candidate experience and strengthening your company's employer branding.
Using ATS communication tools, such as email automation, integrated email templates and a self-schedule interview calendar sure facilitates and expedites steady communication with candidates, ensuring good candidate experience.
3. Automate Repetitive Mundane Tasks
Ask any HR manager who has not used an ATS, they will tell you a lot of their time is spent on doing repetitive and mundane tasks. Starting from setting manual reminders for interviews, mail follow-ups with all parties before & after the interviews, manual internal coordination to enable the recruitment process, along with maintaining seven different excel sheets & ten email threads for maintaining candidate pipelines & communications

All this should rightly belong in the past. These tasks can be easily automated, enabling recruiting managers like you to focus on other important tasks.
With an ATS, get time to focus on where it matters and add value to your business.
4. Collaborative Hiring
With ATS, you will be able to seamlessly implement collaborative hiring in your organization. You will be able to get colleagues from different parts of your business to be involved in the hiring process, which significantly improves the chances that the employee fits your company's culture better.
You will be free of constant email follow-ups, for meetings, calendar invites & long meetings to talk abt candidate feedback, hiring status & next steps.
5. Job Posting
The biggest pain when posting jobs is writing the same description over and over again. You need to post it on different job boards, send it out via email, post it on social media and share it with your network. This can be a time-consuming and frustrating process. With an ATS, you can post a job on over all your preferred job boards and social channels with just one click.
With Webbtree Recroot, the jobs created in the platform can be instantly posted across 10 job boards without any charges, so you get access to the right candidate pool.
Here is how Webbtree Recroot handles this.
In long term, there are many ways your recruiting team & hiring process can reap benefits of ATS:
6. Gain Insights into What's working through Recruitment Analytics
To improve the recruitment process, you must measure and track your performance through Recruitment Analytics. With Webbtree Recroot, you will be able to track different metrics measuring the performance of your hiring process. You will get clear insights on what's working, and what's not with the help of the inbuilt performance tracking feature.
7. Accelerated Hiring Process
As a direct result of benefits from points 1 and 3, you are blessed with a hyper-accelerated hiring process, helping you fill vacancies in your organization as and when required. Not only do different ATS recommend high-quality candidates right from the get-go (enabling you to interview and assess just the right participants), but you will also be able to automate repetitive tasks & keep all your data in a centralized place resulting in an extremely fast hiring process.
8. Improve Productivity & Efficiency of your Team
Not only does your productivity as a recruiter increase significantly when you choose the right ATS, but you will also improve the productivity and efficiency of your team in multiple ways. Apart from the obvious benefits of hiring top-quality candidates, you will be able to reduce the time they spend assessing if a potential candidate is a right fit through an efficient screening process.
Final Word
Recruiters are not just people who hire candidates. They set the tone for your employer brand & company culture as a whole. Their time must be freed to allow them to be focused on things that matter- instead of browsing CVs and maintaining trackers.
That is where you can see the benefits of the ATS, immediately by automating what is less important like job posting, calendar invites, candidate tracking, and speeding up collaboration manually, without compromising on candidate quality, candidate experience & engagement.
For Recruiters who are looking for more than an ATS, there is Webbtree Recroot.
Webbtree Recroot literally ups the ante by integrating the sourcing dashboard on the same platform as ATS. This gives a whole new meaning to the term "End-to-end" recruitment, enabling HR managers to bid adieu to mundane, repetitive tasks, and always hire high-quality candidates as required. The end-user experience for your candidates will be measurably improved, not to mention a better focus on collaboration and productivity.

Don't take our word for it. Why don't you check it out for yourself? Webbtree offers a no-commitment free trial allowing you to test out the features for yourself. Should you have any questions, feel free to reach out here, our team will be happy to assist you with any queries you may have.